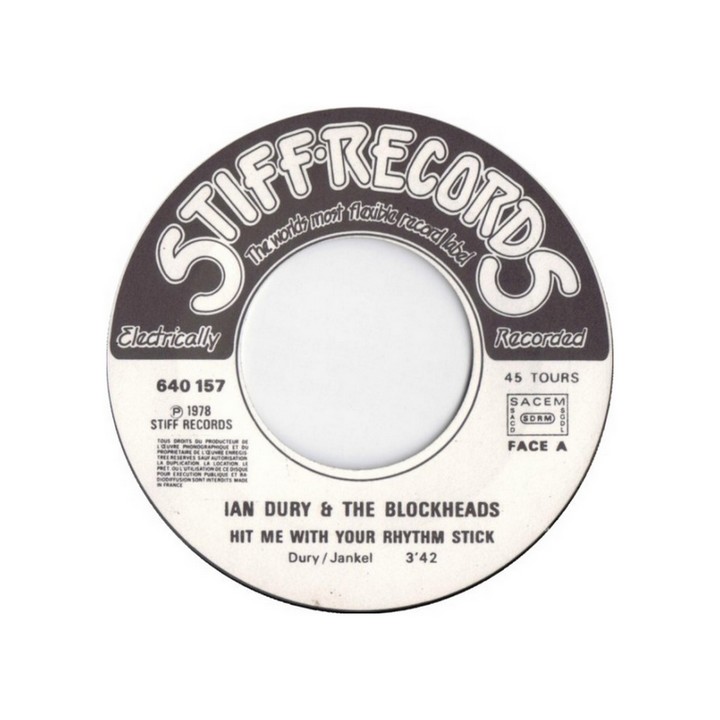 Hit Me With Your Rhythm Stick – Ian Dury & The Blockheads
"People still ask me: 'What is a rhythm stick?' I always say, if you have to ask that question, you'll never know the answer."
Hit Me With Your Rhythm Stick – Ian & The Blockheads
Stiff BUY 38 (UK) / Stiff-Epic 50799 (USA)
Recorded at The Workhouse, Old Kent Road, London
Released 23rd November 1978
Writers Ian Dury & Chaz Jankel
Producer Chaz Jankel
UK #1 27/1/79 1 week
Ian Robins Dury was the man who gave us the iconic phrase 'Sex & Drugs & Rock & Roll' which is attributed to him in the Oxford Dictionary of Quotations. Born in Harrow, England in 1941 (though he later claimed to come from Upminster, where he lived from the age of 6), Dury, a former art teacher at Canterbury College, had contracted polio during childhood. Of his musical influences, and recalling his days at High Wycombe Grammar School in the late 1950s, Dury told Chris Welch in a 1995 interview, "While I was there I heard about people's different musical obsessions. Some liked rock'n'roll, others liked trad or modern jazz, and I picked it all up at once. Never liked classical music much, but I really liked Gene Vincent, and Elvis Presley. I even got heavily into Jelly Roll Morton, and Lonnie Donegan. Of course we all formed a band at school and we had the Black Cat Combo Skiffle Group (Dury played washboard). Then in the late '50s I went to art school and met a lot of people who were into modern jazz.» He studied at The Royal College of Art in the 1960s before teaching at Canterbury. Since the early 1970s he'd been fronting pub-rock band Kilburn & the High Roads, an R&B combo which gradually achieved a considerable cult following. However, an album and a pair of singles for Pye's Dawn label didn't do much (a previously recorded album for WEA's Raft label remained unissued until after Dury found fame) and the band, which Dury maintained was too expensive to run anyway, split in 1975. He then decided to concentrate on building a solo career, writing new material and getting a good band together.
A meeting with musician Chaz Jankel would be the turning point – Jankel in fact joined the High Roads for their last few gigs. In Will Birch's Ian Dury – The Definitive Biography (Sidgwick & Jackson 2010) Dury recalled; "Chaz and the Blockheads were top quality musicians. As soon as I heard Chaz play I wanted to work with him because he's a funky musician. That's what I always wanted to do – all through the Kilburns – music that had that dancing element, but was still English, not just slavishly American stuff." (Several of the Blockheads later played on Trevor Horn's Frankie Goes To Hollywood recordings including mega-hit 'Relax') Between June 1976 and July 1977 Dury and Jankel wrote together while Dury remained off the road for health reasons. Demos of these songs were turned down by every major label in London, but a happy coincidence led Dury to former High Roads manager Dave Robinson.
Stiff Records was established in 1976 by Dave Robinson and Andrew Jakeman (aka Jake Riviera) and swiftly became the flagship of punk and new wave with its advertising slogan, 'If it ain't stiff it ain't worth a fuck'! The label released the track that's recognised as the very first punk single, The Damned's 'New Rose' in November 1976 and other acts on the label included Nick Lowe, Wreckless Eric and Elvis Costello. Ian Dury would (together with later signing Madness) become one of the labels most successful acts giving them their first Number 1 single with 'Rhythm Stick', the song that would give Dury commercial success to match his previous critical acclaim. Stiff would be the perfect home for Dury who was, after all, something of a maverick character who blended various musical styles including funk, jazz and elements of cockney music-hall comedy tradition into something completely original. His hallmark was his humorous wordplay and semi-spoken cockney slang. Among numerous notable Dury lyrics that earned him the title of 'Poet Laureate of Punk' were, 'Billericay Dickie', 'Plaistow Patricia', 'Clever Trevor', 'There Ain't Half Been Some Clever Bastards' and 'Razzle In My Pocket', a song about stealing a porn mag from the newsagents!
Though initially signed to Stiff as a solo act, Dury put together a band, basically the session musicians who'd been working on his new material, with Jankel acting as 'musical director'. Since he'd repeatedly been calling these musicians 'a bunch of blockheads' they decided to adopt the name! Participating in the famed October 1977 'Stiff Live Stiffs' Tour' with Elvis Costello, Nick Lowe and Wreckless Eric, together with Costello, Dury emerged from this tour as a major attraction backed up by his debut single 'Sex & Drugs & Rock & Roll'. Dury recalled, "When me and Jankel wrote (the) song we stole the riff from a Charlie Haden bass solo on a 1960 Ornette Coleman album called Change Of The Century. I met Charlie Haden later and he told me that he'd nicked the riff too, from a Cajun folk tune! It was banned by the BBC when we released it as a single but it sold about 18,000 copies." Though not a chart hit, 'Sex & Drugs' became something of a punk anthem and regularly closed the show on the Stiff tour.
Following release of his debut album New Boots and Panties!! (which only cost £4000 to make and eventually sold a million, hanging around the UK charts for over a year) Dury became one of the big stars of the punk/new wave era, somewhat ironic since he'd been trying to scrape together a living in the music business for years and was by this time 35 years old. In 1978, at last with more than just a 'Razzle' in his pocket, Dury moved into 'Toad Hall', Rolvenden, Kent, a spacious property with large grounds and a garage where Jankel was installed with his keyboards. Dury had in fact been honing his biggest hit for some time: "I had 'Rhythm Stick' for about three years on a bit of paper – I did a little demo of it with a drum machine and I gave it to Chaz." Working with his keyboard set-up down in Dury's garage, Jankel spent hours putting the song together, eventually coming up with a contemporarily suitable disco-groove, and when it was completed telephoned his mum to say he'd just written his first Number 1! Featuring an extremely nifty bass-line, 'Rhythm Stick' is also notable for Blockheads' saxophonist Davey Payne's solo – Payne had a rather unusual gimmick of playing two saxes at the same time, as can be seen on performance videos of the song. 'Rhythm Stick' shifted 900,000 copies in the UK and having climbed the charts throughout December, went to Number 1 in January 1979. Much of the UK punk and new-wave of the late 1970s was pretty much ignored in America, and though 'Rhythm Stick' was released in the States, it wasn't a hit there, though it was a big hit across Europe.
Dury had further hits including 'Reasons To Be Cheerful' (#3) and the theme from the UK television series The Secret Life of Adrian Mole, 'Profoundly In Love With Pandora' (1985) though after Jankel departed for a solo career in 1980, a lot of the magic was gone. Jankel's biggest success away from Dury was the 1981 Quincy Jones hit 'Ai No Corrida', though Jankel and Dury did collaborate again in the 1990s. After leaving Stiff in 1981, while continuing to release the occasional album, Dury appeared in several movies and television productions – he also wrote a musical, Apples, (with former Blockhead Mickey Gallagher) and did advertisement voice-overs. However, one particularly lucrative offer was turned down. Andrew Lloyd Webber asked him to write the libretto for the musical Cats but Dury refused explaining, "I can't stand his music! I said no straight off. I hate Andrew Lloyd Webber. He's a wanker, isn't he? Every time I hear 'Don't Cry For Me Argentina' I feel sick, it's so bad."
Still, he wasn't without a bob or two before his untimely death in March 2000 and was one of few artists to have control over his own hit material. His original management company who financed his first 2 albums went bankrupt in 1982. Dury recalled, "They owned the masters to New Boots, and Do It Yourself, so I bought the masters off the official receiver for nine pence and nobody tried to bid against me. I've been leasing them out ever since." Dury's final album, Mr Love Pants, was released on his own label Ronnie Harris Records in 1998 – Dury named his label after his accountant because, "I knew he'd take care of the business if I named it after 'im." 'Hit Me With Your Rhythm Stick', a UK hit again in 1985 and 1991, is a glorious piece of funky nonsense worthy of Edward Lear (the man who popularized Limericks) and for those still seeking an explanation we'll let Mr Dury have the final word: «People still ask me: 'What is a rhythm stick?' I always say, if you have to ask that question, you'll never know the answer."
Copyright © 2010/2014 SongStories/Tony Burton
Saken er tidligere publisert på Stavanger Musikk- og filmbiblioteket sin blogg M&F-bloggen
Tekst: Tony Burton