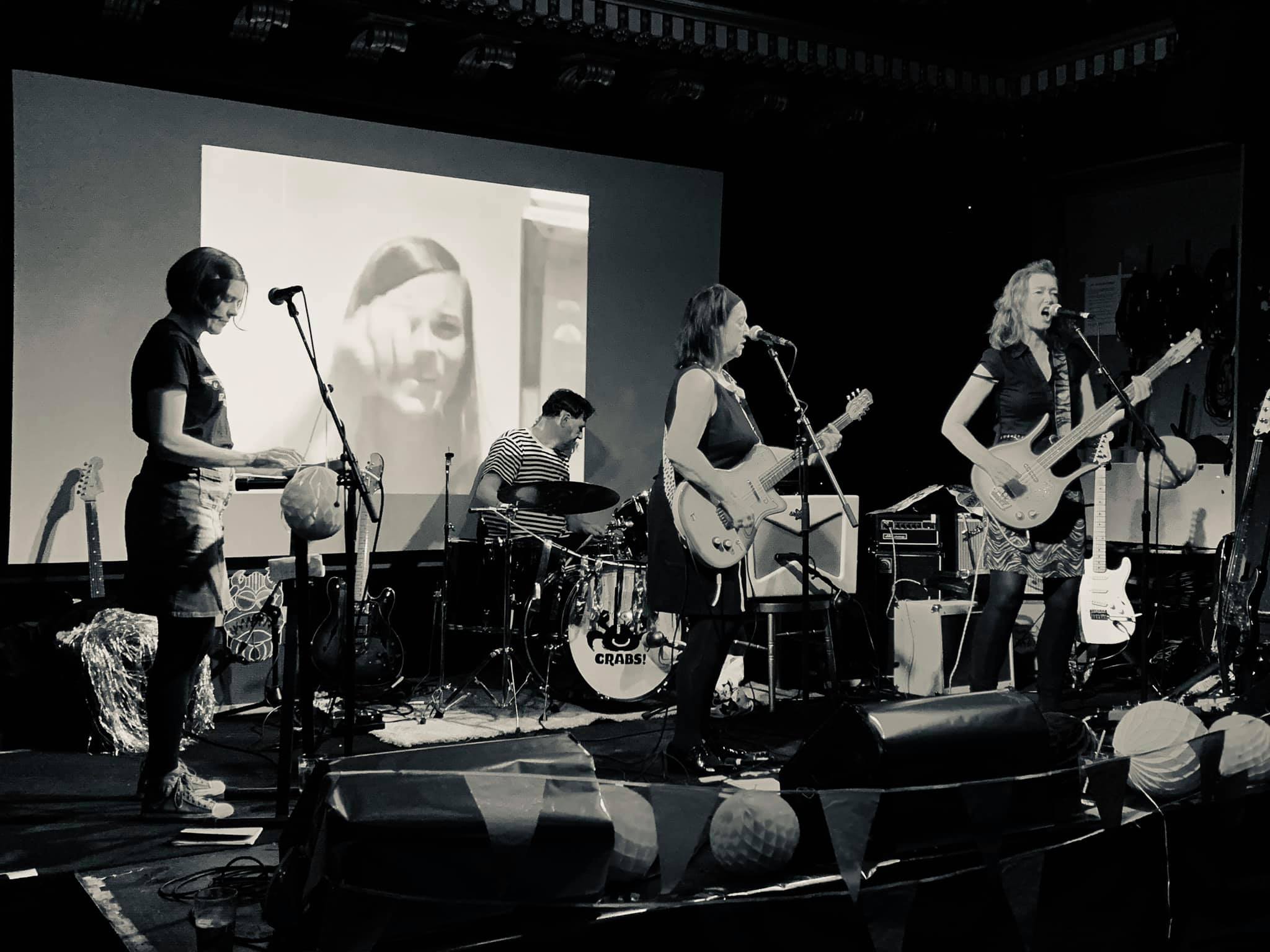 The Nettelles: Standhaftig Garage Punk
– Interessant nok, tror jeg det alltid har vært en slik skille mellom øst- og vestkysten i Skottland med det å ta musikk på alvor og å være «profesjonell», noe som er mer vanlig i Glasgow, mens det i Edinburgh handler det bare om å ha det gøy, mener trommis, og eneste hane i kurven, Angus McPake i The Nettelles, som er aktuelle med albumet «Do You Belive in…» på Back to Beat Records.
Tekst: Jan-Olav Glette / Foto: Lee Grimshaw (inkl. front), Danny Carr, Doug Campbell
Det er gjennomgående både moro og festlig å lytte til The Nettelles. Garasjepunk som river og sliter i lytteren samtidig som den inspirerer både til dans og allsang. Fundert på 1960s beat, surfegitarer, girl group, og en liten dose riot grrl-attitude oser det standhaftig spilleglede av dette. Det hersker heller ingen tvil om at kvartetten fra Edinburgh hadde det moro under innspillingen av albumet «Do You Believe in…» tross omstendighetene hvor bandets frontfigur Clare Campell / Clare Scrivener, led av dødelig kreft, og aldri fikk oppleve å se albumet komme ut.
Vi måtte finne litt mer ut om dette inspirerende bandet og musikkscenen i Edinburgh før og under pandemien og fikk høre om betydningen av å se band som Siouxsie and the Banshees på Top of the Pops, John Peels funksjon som døråpner til kul musikk, hvordan band som Bikini Kill inspirerte til å ta saken i egne hender og lage egne klubber når de eksisterende ble for kjedelige og at den som vil kan lære seg å spille et instrument og opptre.
Vi får også høre om hvordan det å spille musikk sammen og dra på konserter og dansekvelder kan danne grunnlaget for livslange vennskap og en rørende hyllest til vokalisten, gitaristen og frontfiguren Clare, som døde av kreft før albumet kom ut.
For de som ikke allerede kjenner til The Nettelles, hvem er/var dere?
The Nettelles var et garasjepunkband bestående av fire personer basert i Edinburgh, Skottland fra 2016-2020.
Hva er bakgrunnen for bandnavnet? Og hvilket forhold har dere til trivsel (Nettelles på tysk oversettes som hyggelig) og e-pengeoverføringstjenester (Neteller)?
SH: Det tok litt tid å komme med et bandnavn. Jeg husker jeg satt rundt kjøkkenbordet til Angus (der alle bandets møter fant sted) og prøvde å tenke på noe passende og originalt. Vi ønsket noe osm stakk.
AM: Jeg sa «The Nettles», og vi tok et kjapt søk på nettet for å se om det var et annet band med samme navn, og det viste seg at det var massevis…
SH: Så dro vi derfra og funderte på det og bestemte oss til slutt for at vi ville holde oss til Netteles-konseptet fordi vi likte det, men forsøkte å gjøre det originalt.
CD: Vi stavet det på denne måten: «The Nettelles».
AM: Men vi er definitivt oppkalt etter e-pengeoverføringstjenesten heller enn å være «hyggelig» på tysk.
SH & CD: Fordi vi er ikke hyggelige!
CD: Derfor likte vi Nettles, fordi vi er taggete og vi «stikker»!
SH: Haha, ja, vi er på ingen måte hyggelige mennesker som sitter rundt et kjøkkenbord sammen og drikker te…
Hvordan oppdaget dere musikk og hva gjorde at dere ble så lidenskapelig opptatt av den?
SH: Det er et veldig kort spørsmål, er det ikke!
CD: For meg var det bare der! Det var en gammel platespiller i huset vårt og mange gamle plater…
AM: Hjemme hos oss hadde vi Home Service / Radio 4 (BBCs programtjeneste fra 1939-1967 som i stor grad baserte seg på nyhetssendinger, informasjon, snakkeprogrammer, drama og noen programmer med klassisk musikk, journ.anm.) på hele tiden og hørte aldri noe musikk.
SH: Foreldrene mine hadde en veldig god platesamling. De hadde Motown-samleplater, The Beatles, The Rolling Stones, Bob Dylan, Leon Russell, Oscar Brown Jr. …
AM: Det er spesielt det.
CD: Dere er heldige fordi faren min nøyde seg med dansbar skotsk country…
SH: Jeg kan høre det på keyboard-spillingen din Caitriona! Men, du vet, blant alle de kule greiene, var det platene med Meatloaf «Bat Our of Hell» og «Rumours» av Fleetwood Mac jeg likte best fordi de hadde lyrikkhefte som fulgte med så jeg kunne synge med. Så jeg var ikke så kul, men jeg fant ut at jeg elsket å synge og det høyt også!
AM: Søstrene mine pleide å se på «Top of the Pops», og jeg har tidlige minner av å se glam-band som T-Rex, Mud, Sweet og sånne ting, og merkelig nok, Queen som spilte «Killer Queen». Jeg tror det er et av mine tidligste TOTP-minner, og det er et av programmene deres som dukker opp ganske ofte; det har ikke blitt slettet, og jeg husker det. Og, Gary Glitter sittende på en motorsykkel mens han synger «Wanna be in my gang», som vel også må være omtrent fra 1973…
SH: Mye glam der Angus, hvem ville trodd det!
AM: Vel, det er de tingene du husker, og jeg husker at det som virket rart den gangen, var at alle disse mennene kledd som kvinner, sånne drag-aktige klær, og jeg mener å huske at faren min kom med noen kommentarer om det. Åh, og jeg husker da mamma kom for å hente meg fra skolen før sommerferien ankom hun i bil med «Schools Out» av Alice Cooper på stereoen.
CD: Mine tidligste musikalske minner er med The Osmonds og sånne ting på grunn av søstrene mine, men jeg husker at jeg likte Beach Boys' «Greatest Hits»-album, som også var en av deres. Men den første plata jeg kjøpte var det første albumet til The Police, «Outlandos d'Amour».
AM: Har du det ennå?
CD: Vel, jeg kjøpte den igjen ettersom jeg lånte den ut til noen som aldri ga den tilbake. Men jeg kjøpte den først i '79, da jeg var 12. Men mine første singler var med Blondie…
SH: Å ja, jeg kan huske at jeg dro til Woolworths på High Street i Stornoway (på Isle of Lewis hvor Caitriona og Saskia vokste opp) for å kjøpe Blondie-singler. Vi har nok begge kjøpt singlene våre der.
SH: OK, hva gjorde deg så lidenskapelig opptatt av musikk Angus?
AM: Det var en måte å dra damer på! Det fungerte selvfølgelig aldri etter intensjonen.
SH: Og Caitriona?
CD: Å, jeg vet ikke, det var bare en god måte å komme seg opp og danse ved å høre noe for første gang, som ga deg lyst til å bevege deg.
SH: Å, men jeg husker deg fra skolen, og musikken du digget var alltid mye kulere enn alle andres!
CD: Jeg  kan huske at jeg ble fan av Velvet Underground ganske tidlig etter at jeg først hørte dem på en fest, jeg husker jeg tenkte: «Å, dette kan jeg like…».
SH: Å ja, det var slik jeg oppdaget Talking Heads, på en Stornoway-fest som ble arrangert av noen eldre gutter (som sannsynligvis prøvde å sjekke opp jenter!).
CD: Ja, fordi i Stornoway var de fleste opptatt av rock og heavy metal. Så det var godt å høre andre ting fra folk som hadde fått med seg hva som foregikk i verden utenfor!
SH: For Clare. Her er et sitat fra første nummer av fanzinen/magasinet Dynamite Hemorrhage. Jay Hinman er en stor Sally Skull-fan, og han intervjuet Clare i 2014. «Jeg lyttet til John Peel og jeg kjøpte NME. For folk på min alder er det en veldig vanlig ting. Jeg fulgte linkene fra artister som Siouxsie and the Banshees, de var på hitlistene hele tiden og på Top of the Pops. Det ledet meg direkte til mer obskure greier. Jeg var veldig gal etter Joy Division. Da jeg flyttet til Edinburgh for å gå på universitetet, kom jeg i kontakt med garasjepunken, alle «Pebbles»-samlingene og sånne ting. Jeg likte det veldig godt, og likte det faktum at de var ukjente band som bare hadde gjort et par kule ting og så forsvant.
Når begynte dere å synge og spille og hva grep dere med denne måten å artikulere dere på?
AM: Jeg begynte å ta gitartimer i 1978, da jeg var 12.
SH: Så du dro jenter da du var 12 – gosh, Angus, det er mange nye sider ved deg som jeg lærer i dag.
AM: Jupp, jeg klarte aldri å få meg noe jenter på barneskolen.
CD: Jeg begynte først å synge og spille i en alder av 49 år (med The Nettelles) og jeg unngår fremdeles å synge fordi jeg hater stemmen min!
SH: Men vi fikk deg til å synge eller skal jeg si skrike!
CD: Ja, jeg likte veldig godt å skrike på «Baba Yaga».
AM: Den første konserten jeg spilte var da jeg var 17 år med The Rubber Dolfinarium, men mitt første band, da var jeg vel 13 eller 14. Det var liksom bare tingen å gjøre, alle var med i et band.
SH: For deg i Edinburgh, ja, men ikke i Stornoway, og det var utelukkende gutter som var med i band.
AM: Her (i Edinburgh), hvis du ikke var med i et band, så skrev du i en fanzine eller gjorde noe sånn. Det var midten av 80-tallet, og jeg tror vel egentlig at det bare var et produkt av punk-tiden. Det var en flott hobby, og alle bare gjorde det. Det fantes ikke noen regler for å være med i et band, du trengte ikke engang å spille, det var bare: «La oss gjøre noe!» Jeg tror det er en av de flotteste tingene med punk, at det ga denne adgangen for alle: «Gå ut og bli med i et band». På skolen min var det et band i årskullet vårt når jeg var 13, og jeg var misunnelig, men det drev meg videre: «Jeg bare måtte få samlet et bandet ettersom noen andre hadde gjort det allerede». Vi prøvde å stikke av med det andre bandets bassist, jeg husker jeg satt på biblioteket på skolen og sa: «Rab kom og bli med i bandet vårt, vi er mye bedre enn bandet du er i!» Men han var ikke med på det. Han hadde til og med en nydelig Hofner bass…
SH: Jeg vet at Clare begynte å spille gitar da hun var 15 år gammel, og da hun flyttet hit for å studere ble hun med i Edinburghs garasjeband The Pterodaktyls på rytmegitar. Hun fortalte meg følgende i et intervju som jeg gjorde med henne til boken min: «Det fikk satt meg i gang, jeg var i den andre lineup-en fordi Cal (kjæresten til Clare på den tiden) spilte gitar i første lineup-en, og så sluttet vokalisten og Cal ble vokalisten, så da trengte de en rytmegitarist, og jeg hadde gitar. Faktisk sa jeg: «Hei, jeg vil gjøre det.» De hadde ikke vurdert meg, og jeg ble ikke spurt. Jeg lærte virkelig underveis. Det er tingen: Du vil så sterkt gjøre noe, og dras mot det.
SH: For meg tok det litt lengre tid før jeg begynte å spille i band. Jeg var opptatt av musikk og gikk ut på konserter og for å danse og alt det der, men det var først på 90-tallet, da jeg var i begynnelsen av 20-årene, at jeg faktisk begynte å spille. Opprinnelig var musikken jeg begynte å lage ganske hissig fordi jeg var en sint ung kvinne, og jeg ble inspirert av Riot grrrl og band som stammet fra den scenen. Da jeg flyttet fra Glasgow til Edinburgh, ble jeg med Clare i et band som het Sally Skull, og da vi begynte å spille sammen ledet hun meg i retning 60-talls-garasjestien i stedet for den støyende indie grrrl-retningen. Vi begge skrev og spilte fortsatt ganske ampre sanger, men de hørtes bare mindre forbanna ut! Garasje-tilnærmingen var som skapt for noen av de mer hånlige og avvisende sangene våre!
Hvordan endte dere opp med å spille instrumentene deres og hvorfor akkurat disse?
CD: Vel, jeg  kunne spille pianoet siden jeg hadde tatt timer da jeg var yngre. Jeg har absolutt ikke mestret keyboardet! Men jeg liker å spille det, og det er enklere enn gitar.
AM: Fordi jeg hadde spilt trommer for 30 år siden i et band, trodde jeg det ville være bra å gjøre det igjen fordi det er godt å opprettholde ferdighetene sine! Jeg eide dessuten, uten noen åpenbar grunn, tre trommesett, så det var hyggelig å ha en grunn til å ta de i bruk.
SH: Jeg tror jeg spiller bass (i The Nettelles) fordi det er den gitaren jeg er flinkest til å spille! Og Clare spilte gitar. Jeg likte alltid å spille bass sammen med Clares gitar (som jeg også gjorde i Sally Skull). Jeg spilte Danelectro bass i The Nettelles og Clare spilte en Danelectro gitar, så vi var noe av en Danelectro fanklubb. Disse gitarene ser bra ut, høres bra ut og de er veldig lette å bære!
AM: Hvis det bare fantes et Danelectro trommesett!
Har dere et yndlingsinstrument, forsterker, pedal eller mikrofon? I så fall hvilket og hvorfor? Hvor viktig er det å ha et bestemt instrument merke for å skape den lyden du ønsker?
CD: Jeg likte min Philicorda, men den er for tung å bære til konserter.
AM: Du bør prøve å bære en Hammond! (Angus spiller Hammond i Sensation Seekers).
SH: Jeg antar at det er et slags tema her fordi, som sagt, jeg spiller Danelectro bass i The Nettelles, og en fiolinbass i Lord Rochester, fordi de er fine og lette, jeg liker ikke å ha en tung bass eller gitar over skulderen min. Jeg liker å bevege meg mens jeg spiller, og jeg blir jo ikke akkurat yngre…
CD: Jeg er ikke så opptatt av merket, men jeg liker 60-tallslyd. Jeg skaffet meg en Yamaha YC spesielt med tanke på spillejobber, da den ikke veier noe og har innstillinger for Hammond, Vox og Farfisa.
Hvis jeg ikke tar feil, bruker du et Gem orgel, et sjeldent gammelt italiensk instrument relatert til Farfisa eller tilknyttet det. Hva er historien din med dette orgelet, hvordan fikk du det og hva betyr det for deg, lyden og imaget til bandet?
CD: Jeg ville elske et Gem orgel, men orgelet jeg spiller på albumet tilhører faktisk Angus…
AM: Det er en Teisco TEISCHORD C, som ble importert av WEM til Storbritannia, og jeg har to av dem, selv om jeg ikke er sikker på hvor den ene er for øyeblikket! Kan være den ganske enkelt er i et skap. De er japanske og høres ikke ut som andre orgler, selv om de høres litt ut som et Gibson orgel.
Hvis jeg har rett, bruker dere et sangsystem i stedet for en tradisjonell PA. I så fall, hvorfor det valget?
AM: Vi har et gammelt Vox system på øvingsrommet, men vi brukte det aldri til spillejobber, bare øvinger. Til innspilling koplet vi mikrofon rett inn i pulten, som en del av en Tascam 388 opptaker.
Hvorfor garasjerock eller garasjepunk om dere vil?
AM: Vi er absolutt ikke garasje rock.
CD: Ja, garasjepunk. Høres bra ut…
SH: …og hvem som helst kan spille det.
CD: Og du trenger ikke å være en dyktig musiker for å spille garasjepunk.
SH: Det er faktisk bedre hvis du ikke er det! Her er en annen bit som Clare fortalte meg i intervjuet med henne: «Vi tar ikke sikte på å være perfekte – vi vil beholde de grove kantene. Jeg gikk på en gitartime en gang, og det var med denne fyren med heavy metal-gitar. Han var ikke mye eldre eller var jevnaldrende med meg, og han hadde leksjoner fra soverommet sitt i Portobello og hadde alle disse usømmelige bildene av side 3 pinups på veggen. Han ville lære bort disse fingerplasseringene, og å spille veldig raskt. Og jeg skjønte da fort at jeg faktisk ikke vil spille heavy metal-soloer. Jeg hadde også den punkrock-tingen – her er tre akkorder som du kan lære deg selv. Men hvis jeg kunne gå tilbake i tid, ville jeg overtalt meg selv til å ta gitartimer, men ikke fra heavy metal-fyren og ikke vært så punkrock. Men da hadde alt vært en helt annen greie, om jeg hadde lært bluesskalaen med bluesriff.
Hvordan vil dere sammenligne The Nettelles når det gjelder musikalsk tilnærming og bandkjemi i forhold til andre band dere er med i eller har spilt med, som Lord Rochester, Sally Skull, The Thanes, The Sensation Seekers, Les Bof!, Pterodaktyls og Big Russ Wilkins & Lightnin' Holling, og hva tok dere med til The Nettelles fra disse bandene?
AM: The Sensation Seekers og The Thanes drikker ikke så mye te.
SH: Men kanskje drikker de mer whisky!
AM: Hmmm nei, og The Thanes samles ikke veldig ofte… bortsett fra når vi spiller konserter, vi sosialiserer i grunnen ikke  ettersom Lenny og Gordon (fra The Thanes) bor i ulike deler av Skottland. Egentlig tror jeg The Nettelles praktiserer mer sosialt samvær enn noe annet band jeg er med i. Kanskje Les BOF! til en viss grad, men jeg vil si The Nettelles er det mest sosiale bandet jeg er i – det er god kjemi i dette bandet.
SH: Ja, vi var alle venner før vi ble med i bandet og er det fortsatt! Og det er ikke et band som er harde på flaska…
CD: …nei det er tung te-drikking og kaker rundt kjøkkenbordet.
SH: For meg antar jeg at The Nettelles er det eneste bandet jeg var/er med i som mannen min ikke er med i! Det er så deilig å kunne spille uten at mannen min puster meg i nakken min, men nei, seriøst, for meg har The Nettelles, og Sally Skull før det, alltid handlet om å ha det litt jentegøy og lage en høy lyd med andre kvinner (og Angus!). Å spille med Lord Rochester nå i over 10 år har gitt meg mye erfaring med innspillinger og live-opptredener. Med Sally Skull lærte jeg bare mens jeg holdt på og var ikke veldig trygg på noe, spille live, skrive sanger, spille inn osv. Men etter å ha gjort mye av det, tror jeg at jeg er mye mer selvsikker på scenen nå og at jeg derfor likte konserter med The Nettelles mye mer. Jeg tror også at det at jeg ble mer trygg på meg selv var bra for Clare, slik at hun kan slappe av litt mer på scenen. Jeg er fortsatt litt nervøs, med tanke på å ta med nye sanger til et hvilket som helst band, skjønt Clare var alltid den gode låtskriveren i Sally Skull, og hun fortsatte å være en god låtskriver for The Nettelles, og jeg syntes sangene hennes ble bedre de siste fire årene vi spilte sammen også.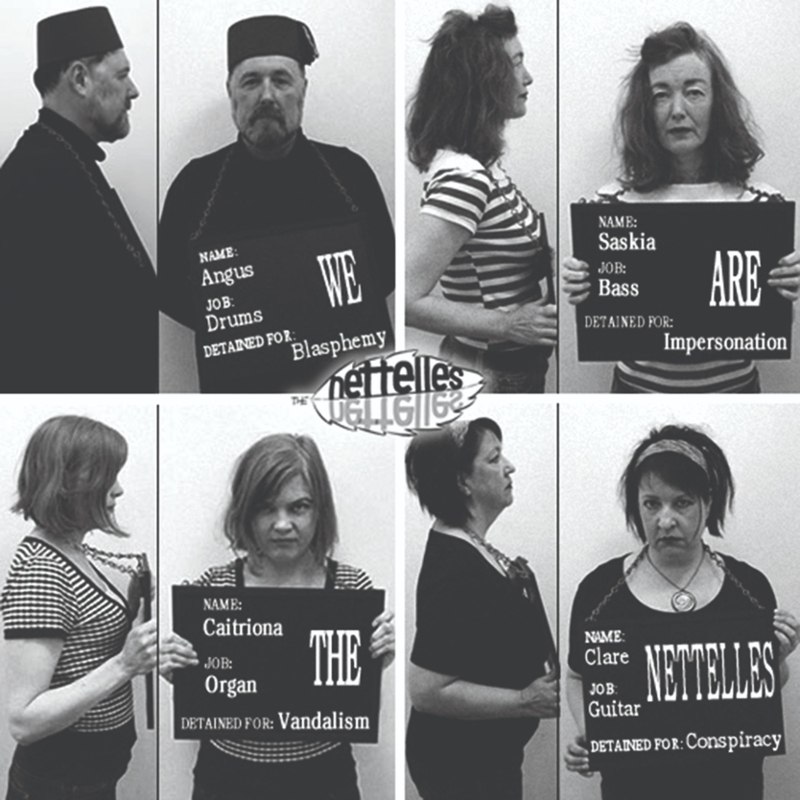 Hva er hovedforskjellen mellom bandet som spilte inn debutsingelen «I'm Over You / We Are…. i 2018 og bandet vi kan høre på albumet «Do You Believe In …»?
AM: Ingenting.
SH: Jeg tror vi var et mer selvsikkert band på albuminnspillingen.
Fortell om bandmedlemmenes musikalske styrke og rolle i The Nettelles.
Clare Campbell / Clare Scrivener – vokal, gitar
SH: Jeg mener at Clare var drivkraften i bandet. Hun var helt fokusert på musikken vi lagde, og vi var alle fast bestemt på å sikre at vi fikk festet sangene våre på tape.
CD: Jeg vet at The Nettelles opprinnelse er Sally Skull-gjenforeningen i 2015, men på vei hjem med henne etter en Gories-konsert i Glasgow var hun så entusiastisk over å starte et band igjen.
Caitriona Donaldson – orgel
SH: Caitriona sier «hun har ingen styrke», men faktisk er keyboardspillingen hennes en sentral del av The Nettelles' lyd. Da Clare og jeg først snakket om å danne et nytt band etter den nevnte Sally Skull-gjenforeningen, visste vi at vi ønsket å «beefe opp» lyden for få det til å låte litt større. Vi tenkte på en rytmegitarist, men gikk for Caitrionas rett frem no nonsense keyboardspill. Hun er også flink til å lage kaker.
Saskia Holling – bass, vokal
CD: Beste bassist, beste arrangør og lager de beste kakene. Sas er sterk, pålitelig og får ting til å skje. Hun sørget for at vi i bandet kom sammen og at vi kom frem til steder i tide. Ved å følge rytmen hennes kunne jeg holde takta på keyboard. Sammen rocket Sas og Clare som bare juling i front.
Angus McPake – trommer
SH: Selv om Angus sier at han ikke hadde spilt trommer på over 30 år, er det ikke mulig å høre det. Han er noe av en musikalsk allrounder, en av de irriterende menneskene som kan spille alle instrumenter, hva som helst! Dette var faktisk veldig nyttig i bandet ettersom vi kunne henvende oss til ham for å få hjelp hvis vi trengte det med tanke på å treffe riktig tone eller akkord til et refreng for eksempel. Han har også skrevet noen gode låter til bandet, og har et øvingslokale og et studio i huset sitt!
Dere hadde også med dere noen gjester i studio. Fortell om dem og deres bidrag.
Doug Campbell – vokal
Doug er ikke bare Clares ektemann, han var vokalist i Edinburgh-bandet Varicose Veins på sent 80-tall.
AM: Han kom på scenen med The Stayrcase også husker jeg. Han pleide å gjøre en versjon av Swell Maps' «Vertical Slum».
CD: Jeg synes det var så utrolig bra det Doug gjorde på «Drug Train». Lux ville vært stolt.
AM: Vi hadde tenkt å døpe den «Doug Train» på albumet…
SH: …men det gjorde vi ikke.
Wilkins – backing vokal
CD: Fantastisk bidrag til albumet!
SH: E. Wilkins er Russ og mitt barn! Fra 8-årsalderen var Eli med på Lord Rochester-konserter da vi begge spilte og ikke kunne la barnet vårt være alene hjemme! Gjennom årene har Eli gått fra backstage til å synge med eller spille gitar på visse Lord Rochester-numre, og det virket som en naturlig ting å bli med på The Nettelles-familiens innspillinger.
Deres hovedvokalist og primære låtskriver Clare Campbell måtte gi tapt i kampen mot kreften før albumet kom ut på hennes fødselsdag og platen kan også ses som en hyllest til henne.
SH: Hva kan vi si- Clare var The Nettelles-  vi har skrevet om dette i albumheftet og jeg er usikker på om vi kan si så mye mer.
Vil bandet fortsette i noen form eller gjøre noen opptredener til hennes minne?
SH: Jeg tror vi vil gjøre en konsert på et eller annet tidspunkt (etter Covid) som en hyllest til Clare.
AM: Så fort det er mulig i grunnen.
SH: Ja, Girls Rock School in Edinburgh vil gjerne hjelpe til med det ettersom Clare var en av stifterne av GRSE, en organisasjon som bidrar til å oppmuntre kvinner  til å drive med musikk.
Hvordan er musikkscenen i Edinburgh og Skottland for tiden?
AM: Vel, det er ganske stengt ned for øyeblikket på grunn av Covid.
SH: I forkant av Covid var det en ganske vital scene. Det er ikke så mange medium-store spillesteder, men for lokale band fantes det mange mindre steder som Henry's Cellar Bar og Leith Depot, vi hadde mange bra kvelder på disse spillestedene. I tillegg har det vært en årlig garasjefestival, The Franklin Fest (som Angus var med å arrangere), men jeg er usikker på hva som kommer til å skje videre… med tanke  på band, så er The Thanes, Les Bof!, Sensation Seekers alle verdt å sjekkes ut! Og Lord Rochester selvfølgelig.
CD: Og Big Russ Wilkins & Lightnin' Holling.
AM: Hør på Orange Clawhammer. Det er et slags Beefheart-tribute band, men de gjør låtene på en annen måte. Virkelig in your face utrolig bra greier.
CD: Mange bra band har kommet ut av Girls Rock School også, som Thee Girl Fridays og Bratakus.
SH: Åja, ikke fra GRSE, men The Fnords også.
CD: Og Las Mitras fra Glasgow.
Hvorfor valget av albumtittelen «Do You Believe In….» og hva vil dere kommunisere med den?
AM: Dette er en av de tingene når man prøver forklare, så høres det forferdelig ut!
SH: Men vi skal prøve, vi hadde en idé om feer og Danny (Carr) nevnte Cottingley Fairies…
CD: …og da kom Clare  opp med tittelen… jeg tror ikke det stikker dypere.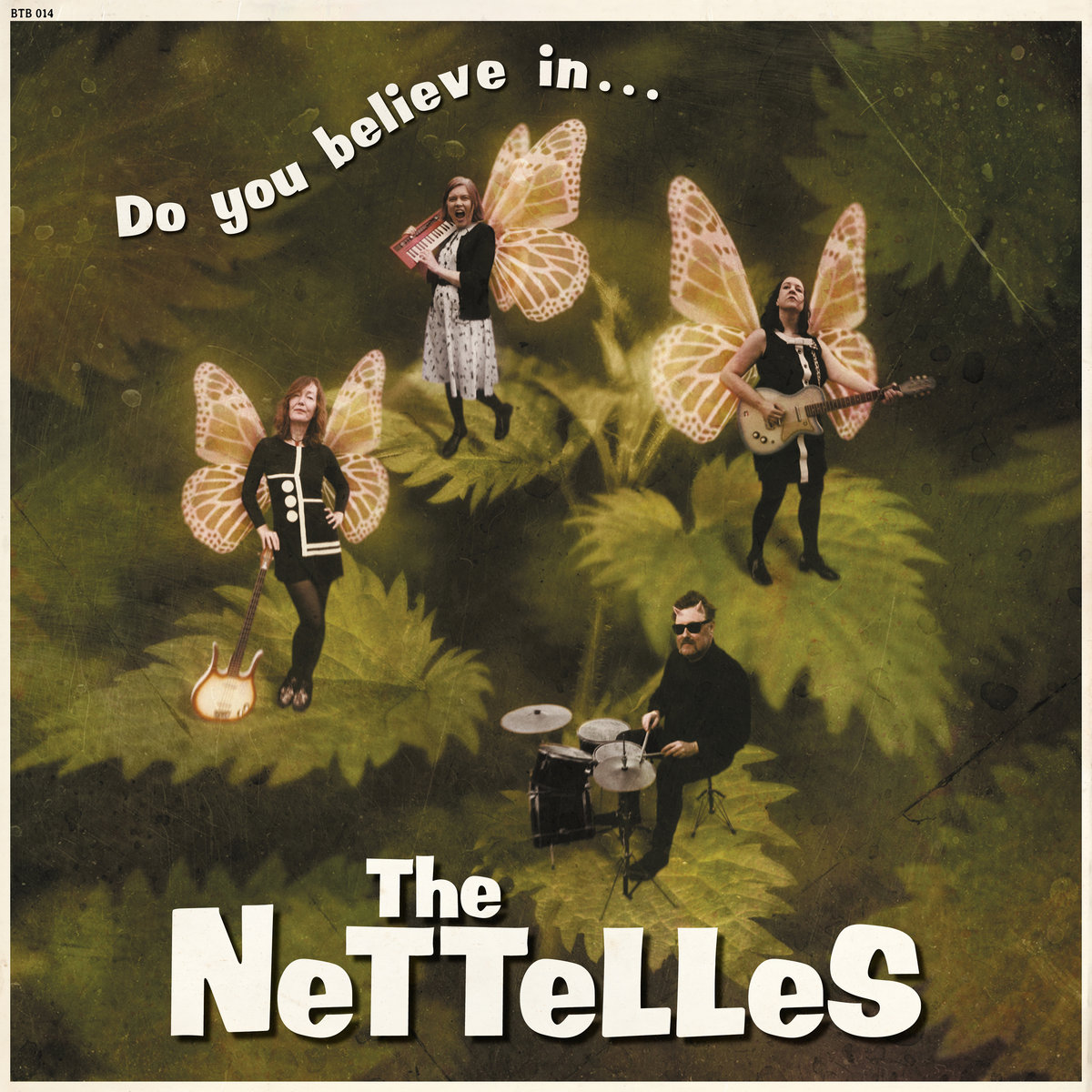 Albumkunsten ble laget  av Danny Carr og  Bruce Brand (Thee Milkshakes, Thee Headcoats, Pop Rivets, The Masonics, Armitage Shanks, Holly Golightly, Hipbone Slim And The Knee Tremblers etc.).
Alle: De er begge våre venner og er  veldig dyktige med det de holder på med.
Det er også en innsiktsfull tekt i innleggsheftet, skrevet av Lenny Helsing (gitarist, vokalist, trommis og låtskriver fra Belsen Horrors, November Crimes, The Green Telescope, The Thanes etc.).
AM: Lenny er en gammel venn som er veldig flink med ord og til å beskrive musikk.
SH: han er noe av en Edinburgh legende. Clare pleide å kalle ham: «Gudfaren av Edinburghs garasjescene».
AM: Og nå befinner han seg i Stonehaven… han har en spiss hatt!
I tillegg til deres egne briljante låter inneholder platen også noen coverlåter. Kan dere fortelle om disse, forholdet til låtene, artistene som skrev/fremførte de og deres versjon?
«Get off the Road», skrevet av Herschell Gordon Lewis, covret av  The Lunachicks, The Cramps etc.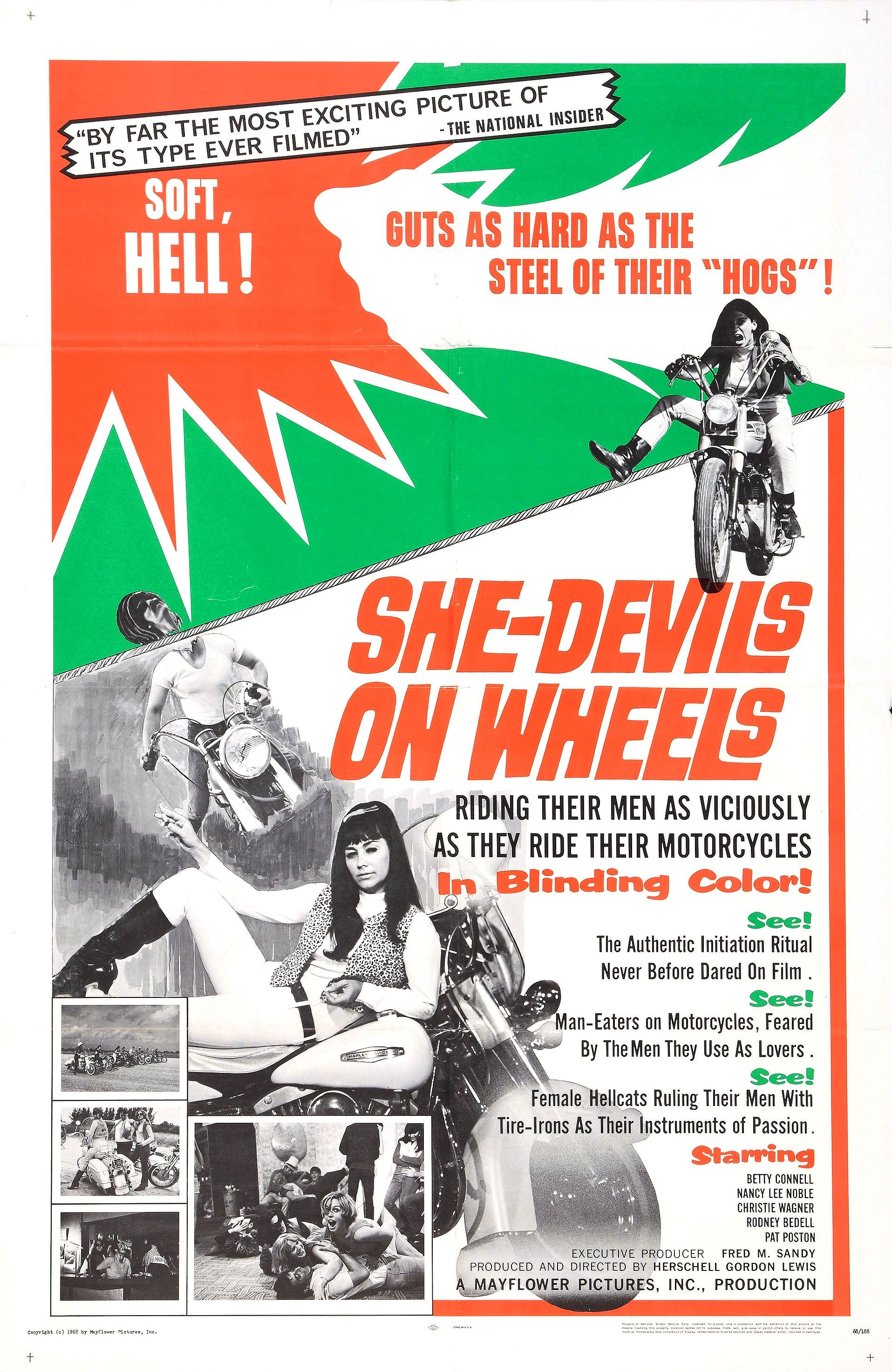 SH: Dette er en sang som Clare og jeg spilte sammen i våre Sally Skull-dager. Clare lærte seg faktisk denne låten fra hennes VHS-kopi av filmen «She-Devils On Wheels»! Vi elsket alltid å spille den, og jeg tror den var i Sally Skull-settet fra de aller første dagene av bandet. Sally Skull spilte den inn to ganger også, men ga aldri ut noen av innspillingene, men du kan høre dem nå på Bandcamp. Da vi begynte å spille sammen igjen i The Nettelles, virket det bare naturlig å ta denne sangen med oss. Det er en ideell «hæla i taket»-låt, så vi brukte den til å starte de fleste av konsertene våre.
AM: Ja, det er virkelig en «hæla i taket»-låt!
CD: The Cramps covret den også, og det er en av de sjeldne sangene hvor Poison Ivy synger.
«You Lied to Me Before», skrevet av Foster, gjort av Treez, The Brood etc.
SH: Vår versjon av denne sangen er faktisk inspirert av versjonen til The Brood. Clare introduserte meg for The Brood tidlig på 90-tallet, og jeg dro straks ut og kjøpte platene deres. Dette sporet var på en Dionysus Records-samling kalt «Sounds of Now!». Jeg oppdaget faktisk ikke at de ikke hadde skrevet den før jeg jobbet med  info og kredit til The Nettelles plateheftet! Nok en flott sang å spille live.  Jeg elsket å plukke ut gutter i publikum under den snakkebiten i midten!
«Drug Train», skrevet av Ivy Rorschach, Lux Interior gjort av The Cramps, The Monsters
SH: Vi spilte denne på en årlig hyllestkveld til Cramps, som fant sted i Edinburgh og Glasgow, kalt «Lux Lives». Doug ble med oss ​​på scenen for å fremføre denne sangen i 2019, og det var flott å få ham og Clare til å synge sammen på scenen; Edinburghs rock'n'roll gothabilly-par.
Her er noen stikkord som jeg vil at dere skal si litt om forholdet til og hva de kan fortelle om The Nettelles og «Do You Believe In….».
Rock'n'roll
SH: Never dies…
AM: Sex and drugs…
Surfgitar
AM: Ja, der var definitivt litt surfgitar i The Netttelles. Det var et fint element å slenge inn spesielt som et riff over noe reverb.
Girl group
AM: Det er veldig få fullstendige girl groups i Skottland.  Angivelig driver noen og lager en dokumentarisk gjennomgang av historien om skotske girl groups…
SH: Den heter «Since Yesterday: The Unsung Pioneers of Pop» 60s beat.
SH: Ja, det er en inspirasjon, men….
AM: Det er ikke bare det…
Riot grrrl
SH: Selv om musikken til Sally Skull ikke var spesielt riot grrrl, det var ingen åpenbart politiske tekster, så startet vi omtrent samtidig som den scenen tok av i Storbritannia. Clare kalte oss «medreisende» av riot grrrl-scenen, men jeg tror eksplosjonen av unge kvinner i musikk på den tiden hadde mer innflytelse på meg, dvs. det ga meg faktisk det siste dyttet i ryggen som jeg trengte for å komme i gang og bråke gjennom musikk. Jeg lagde også fanziner og arrangerte konserter i Edinburgh, ofte konserter med kun kvinnelige band som Lung Leg, Pink Kross og Hello Skinny.
Ragged sound
CD: Toe ragged… ja, vi vil ikje at det skal låte for polert.
SH: Aye…
Fuzz
CD: Det kan aldri bli for mye av det…
SH: Vel det går an, men det er alltid bra å legge inn noe av det. Og jeg likt Clares  fuzzgitar.
Am: Ja, det fungerte. Den pedalen var en av de som passet til noen gitarer og ikke med andre, men jeg gjetter det faktum at det var en Danelectro fuzzpedal og en Danelectro gitar forteller noe.
The Headcoates/Thee Mighty Caesars/Thee Milkshakes/The Pop Rivets/The Buff Medways/The William Loveday Intention/ Billy Childish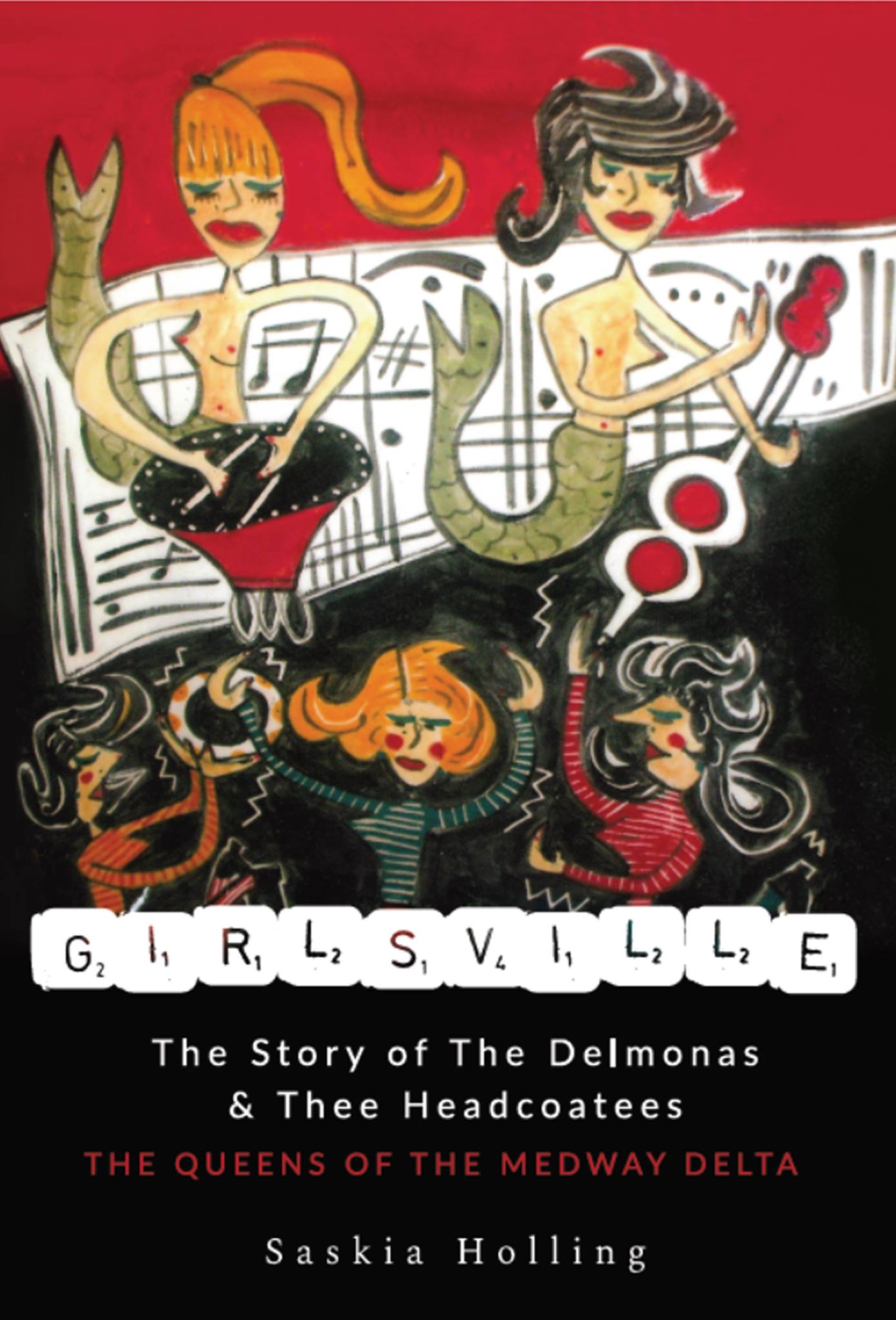 AM: Vel… det er en fabelaktig  bok som nettopp har blitt skrevet om damene som var involvert i disse bandene…. [«Girlsville: The Story of The Delmonas and The Headcoatees», publisert av Spinout Publications]. (Boka er skrevet av Saskia Holling, kom ut i vår, og anbefales sterkt –  for øvrig startet Cecilie Asker i The Launderettes en fanzine på slutten av nitti-tallet med delvis samme navn, Girlsville, og som også handler om damer og musikk, red.anm.).
Medway Garage
SH: Det er morsomt at siden vi har Mr Russ Wilkens navngitt som produsent på albumet så blir vi assosiert med Medway Garage…
AM: Er det virkelig forskjellig fra hvilken som helst annen garasjescene?
SH: … Edinburgh Garage.
The Brood
SH: Jeg tror jeg svarte den allerede!
The Pandoras
CD: Vi pleide å spille «That's You're Way Out» live. Clare var en enorm fan og jeg synes at vi gjorde en bra versjon.
SH: Ja, jeg hadde elsket å finne en øvingstape med den ettersom jeg tror det kunne vært et bra spor til en singel…
Slavisk folklore / Baba Yaga
AM: Baba Yaga er inspirert av Clare og Dougs kjærlighet til giallo og 60s og 70s eksperimentelle skrekkfilmer. De så ut til å ha en større interesse for europeisk folklore enn for britiske skrekkfilmer.
Moro
CD: Alt handler om moro.
SH: Om du ikke har det gøy i et band, hva er vitsen?
AM: Akkurat. Interessant nok, tror jeg det alltid har vært en slik skille mellom øst- og vestkysten i Skottland med det å ta musikk på alvor og å være «profesjonell», noe som er mer vanlig i Glasgow, mens det i Edinburgh handler det bare om å ha det gøy. Det er muligens grunnen til at Edinburgh-band har fått mindre anerkjennelse fordi ingen gidder å bry seg om å bli berømte.
Attitude
SH: Det må man ha!
CD: Massevis av attitude.
SH: og vi kler det!
Kvinnelig styrke
ALL: Ja.
Jack the Ripper
CD: Baba Yaga.
The Whirlpool
CD: Det var Edinburgh-klubben Clare og jeg hadde sammen med kjæresten hennes (den gang) Cal, hennes bror Grant og vår venn Donalda rundt 1988/89. Vi holdt det billig, det kostet omtrent £ 1 eller £ 2 å komme inn, og vi spilte en blanding av 60-talls garasje og indie… Pebbles, Goth, Beat Happening… en reell blanding av akkurat de tingene vi likte. Vi startet den opp fordi acid-klubber var stort den gangen, og det var få klubber vi hadde lyst å gå på, så vi bestemte oss for å lage vår egen i stedet!
The Go Go
AM: Jeg tror faktisk The Snakepit er mer relevant for The Nettelles, det var der vi alle først møttes. The Snakepit var en Edinburgh-klubb på midten til slutten av 80-tallet, drevet av meg, Lenny og den «selskapelige» Jeremy Thoms, og det var hovedsakelig meg og Lenny som spilte 60-talls garasje og rock'n'roll pluss litt punk, Damned, Wire og litt mer moderne ting (på den tiden) som Julian Cope og Psychedelic Furs. Det var en stor gruppe venner med lignende smak jeg møtte gjennom denne klubben, inkludert alle dere. Det foregikk i omtrent fire år på den tiden da du åpnet en klubb klokka ti om kvelden og holdt på til klokka fire om morgenen.
SH: Da vi var unge!
AM: Det var lyst når du kom, så DJ'et du hele natta og det var lyst når du dro hjem… ikke så mange ganger i livet har jeg opplevd det.
Alle pengene dere får inn fra platesalget deres, deles mellom Maggie's Edinburgh og Girls Rock School Edinburgh. Fortell oss om veldedighetsorganisasjonene som dere har valgt å støtte.
SH: Begge veldedighetsorganisasjonene er relevante for Clare. Maggie's Edinburgh, en veldedighetsorganisasjon som sørger for støtte til kreftrammede, var der for Clare da hun trengte det, og som jeg tidligere har sagt, var hun en av grunnleggerne av Girls Rock School Edinburgh – et sted hvor det ikke bare handler om å lære å spille instrumenter, det handler om møte andre mennesker og bli kjent med folk som kanskje vil spille sammen.
«Do You Believe In…» ble spilt inn i Ravencraig Studios av bandet og Medway garage-legenden Big Russ Wilkins (The Pop Rivets, The Milkshakes, The Wildebeests, Lord Rochester, etc.).  Fortell om studioet.
SH: Det er et forrommet i Angus hus som ligger ved siden av det viktige kjøkkenet og opptaks-kontrollrommet.
AM: Det ble hovedsakelig spilt inn live uten skillelinjer eller isolasjon, så det er bokstavelig talt lyden av rommet med svært få overdubs. Du hører nøyaktig hva vi spilte.
SH: Ja, hva du hører er hva du får.
Albumet ble spilt inn rett til tape.
AM: Vi hadde ikke mulighet til å spille inn på noe annet digitalt format. Tape er det vi benytter i Ravencraig Studios og det som vi spilte inn på.
CD: Vi benyttet ressursene som vi hadde til rådighet.
AM: Og det låter umiddelbart. Det jeg misliker med det digitale er at det er så mye etterarbeid forbundet med det. Med tape så spiller du inn, spoler tilbake og det høres umiddelbart bra ut. Personlig tror jeg ikke du kan oppnå det samme med digital innspilling.
SH: Selv om det var litt digitalt arbeid med dette i etterkant.
AM: Ja, men brorparten av dette var allerede unnagjort. Vi satte det opp så det skulle låte slik vi ville i forkant, og du må bruke litt tid på å sette det opp riktig. Også, for meg, høres dette formatet bedre ut.
Fortell om Big Russ Wilkins og om valget å la ham produsere albumet sammen med dere.
AM: Vi kunne ikke bli kvitt ham!
SH: Vel, jeg kunne ikke la ham være igjen i bilen med en bolle med vann og vinduet så vidt åpent, men seriøst, igjen skal jeg ty til Clare her og det hun sa i et intervju jeg gjorde med henne om lyd da The Pterodaktyls først spilte inn: «Vi sparte opp pengene vi tjente fra konserter og brukte alt  på innspillinger som vi ikke var fornøyde med. Vi spilte inn i et lokalt studio og syntes det var vanskelig å forklare «garasjepunk»-lydbildet som vi ønsket. Jeg kan ikke huske hva vi sa, men jeg tror vi ikke var i stand til å artikulere hva vi ville ha: Det garasje-lydbildet, enkel lyd, veldig live. Det er mange beslutninger som blir tatt for å få det til å låte så rått og levende. Ideen om at du bare kan gå inn i et studio og spille det inn, det skal så lite til for at det ikke blir slik du ønsker. Vi hadde trengt en Russ i Edinburgh scenen tidligere. fordi mennesker som Russ vet hva de holder på med og vet hvilket lydbilde de, og vi, vil ha.
Albumet ble sluppet av det norske plateselskapet Back to Beat Records. Hvordan kom dette i stand og hvilket forhold har dere til labelen?
AM: Jeg kjente til plateselskapet fordi de hadde gitt ut et album med The Sensation Seekers.  Jon (Skjold) fra Back to Beat er en stor Sally Skull-fan, men hadde ikke funnet ut om forbindelse til The Nettelles. Han ble så begeistret da han fant ut at jeg spilte trommer i bandet med Clare og Saskia fra Sally Skull. Han ville virkelig gi ut plata.
Hvilket forhold har dere til Norge og norske musikkfans? Har dere vært her og spilt med noen av deres tidligere band eller har dere planlagt noe når pandemien gir seg?
CD: Jeg skulle virkelig ønske at vi hadde det. Jeg er en stor fan av The Frantic Five (gresk moody garasjerock band fra Thessaloniki, journ. anm.) som er på Back to Beat.
AM: Jeg har spilt der med The Sensation Seekers, Les Bof! og The Thanes og tror virkelig at The Nettelles ville gjort det veldig bra der.
Kan dere også fortelle litt om Ravencraig Studio and Spinout Nuggets?
AM: Ravencraig er røft og enkelt, vi spiller inn rett på bånd og vi vil at folk skal komme og spille og spille inn samtidig.
SH: Lee Grimshaw er en nydelig, superentusiastisk og enkel person å jobbe med.
AM: Det var et vanskelig valg mellom Spinout og Back t
o Beat for Nettelles' albumutgivelse. Til slutt, Jon var bare så begeistret for det på grunn av Sally Skull-forbindelsen. Vi ønsket også å få albumet gjort med en gang på grunn av omstendighetene og Back to Beats tidsskjema var raskere … selv om alt likevel ble satt tilbake på grunn av Covid…
Hvordan har dere blitt påvirket av nedstengningen av samfunnet og Covid-19-tiltakene?
SH: Hmmm, det samme som alle andre egentlig. Selv om, ja, The Nettelles-utgivelsen ble utsatt fordi vi skulle ta et bandbilde til albumomslaget da den første nedstengningen kom i mars 2020. Vi klarte aldri å samle alle i et rom etter det, som er så trist. Når det gjaldt albumomslaget, måtte vi tenke kreativt – derav de individuelle bildene som ble tatt i våre respektive hager til omslaget. Men coverkonseptet og hva vi skulle gjøre med det medførte utsettelse av albumutgivelsen, dessverre, litt for lenge til at Clare fikk holde det ferdige produktet i hendene.
Kan dere til slutt velge 15 spor, 5 hver, som på en eller annen måte har inspirert The Nettelles og et eller to spor som får dere til å tenke på Clare? Og si hvilke kvaliteter dere ser i disse sporene eller hva det er som gjør at de relaterer til bandet eller «Do You Believe In…?
I tillegg til coverlåtene vi allerede har snakket om, er dette spor som inspirerte The Nettelles og som vi spilte sammen, fordi vi elsket sangene:
That's Your Way Out av The Pandoras

How to Do Now av The Monks

Justine av The Rangers (og The Mummies)

Can Your Pussy Do the Dog av The Cramps

TV Set av The Cramps

Bad Little Woman av Shadows of Knight

I'm a Leather Boy av The Leather Boy

Marble Orchard av The Graveyard Five

Diddley Daddy av The Liverbirds

Vi har også valgt noen låter som får oss til å tenke på Clare, og dermed The Nettelles:
Caitriona: «Where Is My Mind» av Pixies, fordi vi elsket «Surfer Rosa». Jeg tror faktisk at det var «Gigantic» som ble overspilt på Whirlpool, men ethvert spor fra denne LP-en får meg til å tenke på Clare, og jeg elsker denne. «Strychnine» av Sonics, fordi Clare vrælte denne i bryllupet sitt da hun ble med Wildebeests på scenen. Et øyeblikk vi aldri vil glemme!

Angus: «You Better Go» av Sally Skull siden jeg tenkte «jeg vet dette kommer til å bli moro» når jeg hørte hva dere  to allerede kunne  få til.

Saskia: «Rebel Girl» med Bikini Kill. Clare og jeg elsket begge denne låta – den var virkelig en inspirasjon for oss unge kvinner om å komme oss ut og spille på tidlig 90-tall. Og det gjorde vi.

Saskia: Clare og jeg var begge store Sleater-Kinney-fans og gikk for å se dem flere ganger i løpet av årene. Sist vi så dem sammen var i februar 2020 på Glasgow Barrowlands. Det var en magisk natt av mange grunner. Det forholdet mellom Corin og Carrie virket alltid som et nært samsvar med vårt eget musikalske partnerskap, et partnerskap som jeg savner mer enn ord kan beskrive…

(Her et tredje plate av Sleater-Kinney,  utgitt 1997,  red.anm.)
The Nettelles – Do You Belive In​.​.​. (Album, 2020)

The Nettelles – We Are​.​.​.. (EP, 2018)

Sally Skull – Fractious (7″, EP, 1997)
Sally Skull – Tantivy Tracks (EP, 1995)
Sjekk også:
The Nettelles – Baba Yaga & You Better Go (Ferske spor uke 49/2020)
Sjekk flere relaterte saker under, vi kunne tatt med mange flere (som f.eks. The Hives og Quarter Wolf, klikk ellers på lenkene i selve intervjuet), husk forresten å klikke på «Last inn mer» for å sjekke flere.
Her kan du søke etter og låne musikk, bøker, tegneserier og noter i Deichmans katalog
The Nettelles: Steadfast Garage Punk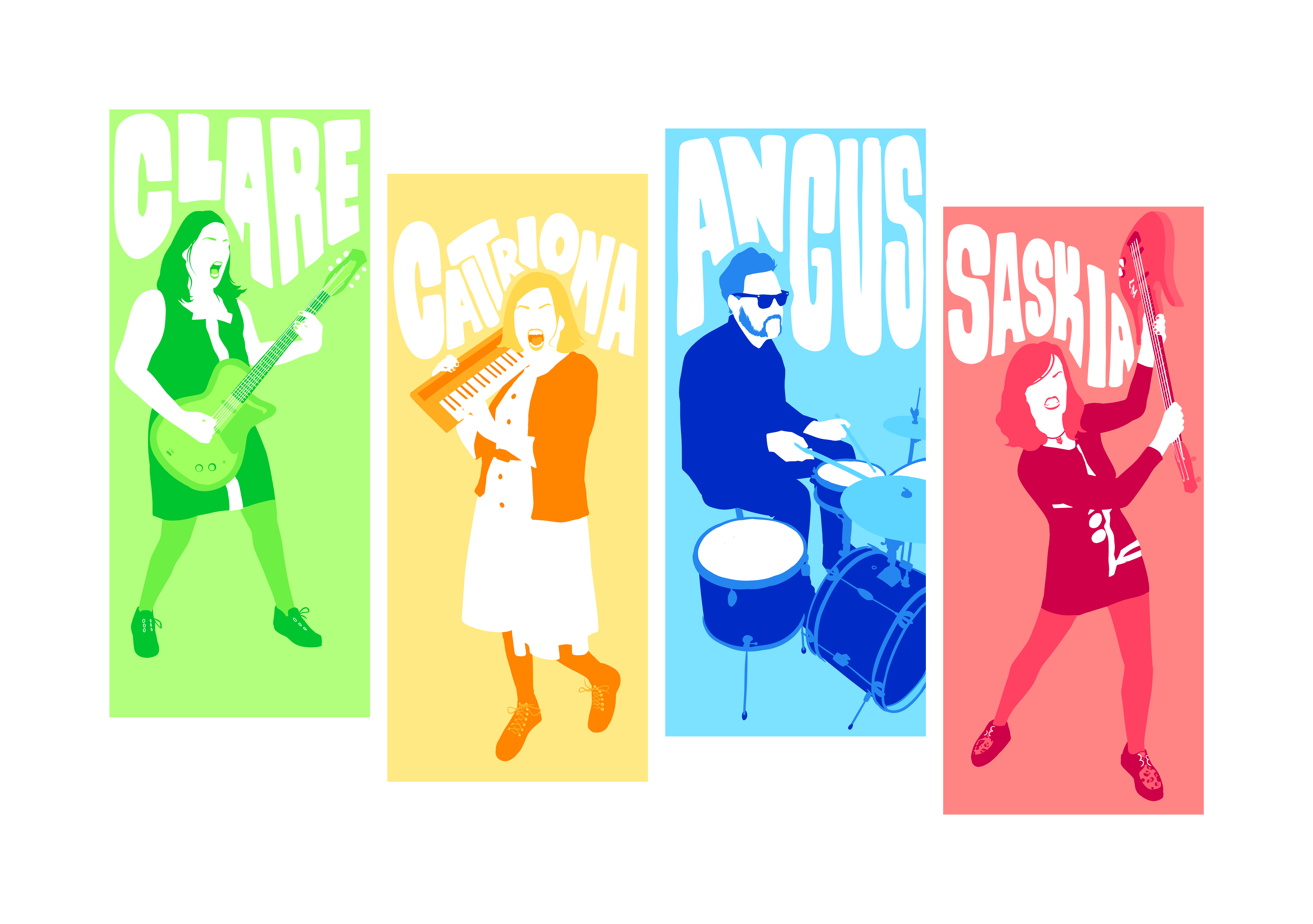 – Interestingly, in Scotland I think there's always been this kind of East / West coast divide between taking music seriously and being 'professional' which seems to happen in Glasgow more and in Edinburgh it's more about just having fun, claims drummer Angus McPake in The Nettelles that released the album "Do You Belive in…" on Back to Beat Records earlier this year.
It is generally both fun and festive to listen to The Nettelles. Garage punk that grabs you by the neck at the same time as it inspires both dance and singing. Based on 1960s beat, surf guitars, girl group, and a small dose of Riot grrrl attitude, the steadfast playing oozes joy. There is also no doubt that the quartet from Edinburgh had fun recording the album «Do you Believe In…» despite the sad circumstances where the band's frontwoman Clare Scrivener suffered from deadly cancer, and never got to experience the album release.
We wanted to find out a little more about this inspiring band and the music scene in Edinburgh before and during the pandemic and learnt about the importance of seeing bands like Siouxsie and the Banshees on Top of the Pops, John Peel's role as a door opener to cool music, how bands like Bikini Kill inspired them to take matters into their own hands and create their own clubs when the existing ones became too dull, and that they think whoever wants can learn to play an instrument and perform. We also hear about how playing music together and going to concerts and dance nights can form the basis of lifelong friendships and get a touching tribute to the late vocalist, guitarist and frontman Clare Scrivener who died of cancer before the album came out.
For those who are not yet familiar with your excellent band, who were The Nettelles?
The Nettelles was a four piece garage punk band based in Edinburgh, Scotland from 2016 – 2020.
Can you please tell us a bit about the background for the band name and your relation to German pleasantry ('nettelles' in German translates as nice) and e-money transfer services ('neteller')?
SH: It took us a while to come up with a band name … I remember sitting around Angus's kitchen table (where all of our band meet ups took place) trying to think of something suitable and original. We wanted something a little spiky …
AM: I said 'The Nettles' and we had a cursory look online to see if there was another band called that, and it turned out there was loads of them …
SH: So, we went away and thought about it and decided that we'd stick with the nettles concept because we liked it, but to make it original …
CD: … we spelled it this way: 'The Nettelles'
AM: But we're definitely named after the e-money transfer service rather than being 'nice' in German.
SH & CD: Because we're not nice!
CD: That's why we liked The Nettles, because we're spiky and we 'sting'!
SH: Ha ha yes, we're definitely not nice people who sit around a kitchen table together drinking cups of tea …
How did you discover music and what made you so passionate about it?
SH: That's a really little question isn't it!
CD: For me it was just there! There was an old record player in our house with lots of old records …
AM: At our house we had the Home Service / Radio 4 on all the time and never heard any music.
SH: My parents had a really good record collection. They had Motown samplers, The Beatles, The Rolling Stones, Bob Dylan, Leon Russell, Oscar Brown Jr …
AM: Now that's obscure ..
CD: Your lucky because my dad stuck to Scottish Country Dancing …
SH: I can hear that in your keyboard playing Caitriona! But you know in all of that cool stuff, the records I liked best were Meatloaf 'Bat Our of Hell' and 'Rumours' by Fleetwood Mac because they had lyric sheets and I could sing along. So I was not that cool, but I did discover that I loved singing, and singing loud!
AM: My sisters used to watch 'Top of the Pops' and I have very early memories of seeing Glam bands such as T-Rex, Mud, Sweet and things like that, and strangely, Queen doing 'Killer Queen'. I think that's one of my earliest TOTP memories and it's one of their programs that comes up quite often; it hasn't been wiped, and I remember it. Oh, and Gary Glitter on a motorbike singing 'Wanna be in my gang' which must be about 1973 as well …
SH: Oh a lot of glam in there Angus, who'd have thought it!
AM: Well, that's the stuff you remember, and I recall that what seemed strange at the time was all these men were dressed as women, that kind of drag thing, and I imagine my dad made some comments about it. Oh, and I remember when my mum came to pick me up from school at the end of a summer term, she arrived in the car and 'Schools Out' by Alice Cooper was playing.
CD: My earliest musical memories are of The Osmonds and things like that because of my sisters but I do remember I liked the Beach Boys greatest hits album which was one of theirs. But the first record I bought was the first album by The Police, 'Outlandos D'amour'.
AM: You still got it?
CD: Well, I rebought it because I lent it to someone and they never gave it back. But I first bought it in '79 and I was like 12. But my first singles were by Blondie …
SH: Oh yes, I remember going to Woolworths on the High Street in Stornoway [on the Isle of Lewis where Caitriona and Saskia grew up] to buy Blondie singles. We will both have bought our singles there.
SH: OK, What made you so passionate about music … Angus?
AM: It was a way of pulling girls! It never worked of course .
SH: And Caitriona?
CD: Oh I don't know, it was just a good way to get up and dance around, hearing something for the first time that made you want to move.
SH: Oh but I remember you at school, and the music that you were into was always much cooler than everyone else!
CD: I remember getting into theVelvet Underground quite early after I first heard them at a party; I remember thinking 'Oh, I like this …'
SH: Ah yes, that's how I discovered Talking Heads, at a Stornoway party being hosted by older boys (who were probably trying to pull girls!).
CD: Yes because in Stornoway everything and most people were leaning towards rock and heavy metal. So it was good to hear different things from people who had discovered the outside world!
SH: For Clare, here's a quote from the first issue of the fanzine / magazine 'Dynamite Hemorrhage'. Jay Hinman is a big Sally Skull fan and he interviewed Clare around 2014 … "I was a John Peel listener … and I bought NME. For people my age it's a very common story. I followed the links from things like Siouxsie and the Banshees; they were in the charts all the time and on Top of The Pops; I followed that direct to more obscure things. I was really crazy about Joy Division. … I moved to Edinburgh to go to University and that's when I met up with the more garage punk kind of thing, all the 'Pebbles' compilations and that kind of stuff. I really, really liked it, and liked the fact that they were obscure bands that just did a couple of cool things and disappeared."
When did you start singing and playing and what gripped you with this way of articulating yourselves?
AM: I started having guitar lessons in 1978 so I was 12.
SH: So you were pulling girls at 12 – gosh, Angus, there's all sorts of new sides to you that I'm learning about today.
AM: Yup, I was failing to get off with girls at Primary School.
CD: I first started singing and playing at the age of 49 [with The Nettelles] and I still resist singing because I hate my voice!
SH: But we did get you singing or should I say screaming!
CD: Yes, I really enjoyed screaming on 'Baba Yaga'.
AM: The first gig I played was when I was 17 with The Rubber Dolfinarium, but my first band … I was about 13 or 14. It was kind of just the thing to do, everyone was in a band.
SH: For you in Edinburgh yeh … but not in Stornoway … and it was just the boys who were in bands.
AM: Here [in Edinburgh], if you weren't in a band you were writing a fanzine or doing something along those lines. It was the mid '80s and I think that's just the product of the punk era really. It was a great hobby and everyone just did it. There were no rules about being in a band you didn't even have to play it was just: "let's do something!" I think that's one of the great things about punk, that it gave this ticket to everyone, "go out and be in a band". At school there was a band in our year already when I was 13 and I was jealous, but it spurred me on: "Got to get this band together because someone else has done it". We did try to poach the other band's bass player; I remember sitting in the library at school going "Rab come and join our band, we're much better than the band that you're in!" But he wasn't having it. He had a lovely Hofner bass as well …
SH: I know that Clare started playing guitar at the age of 15 and when she came to study here, she joined Edinburgh garage band The Pterodaktyls on rhythm guitar. She told me the following for an interview that I did with her for my book: "It got me started, I was in the second line-up because Cal [Clare's boyfriend at the time] was playing the guitar in the first line-up and then the singer left and Cal became the singer so they needed a rhythm guitarist and I had a guitar. In fact I said: "Hello, I want to do it" They hadn't actually considered me and I didn't get asked. I did really learn as I was going along. That's the thing: you want to do it and feel drawn to it."
SH: For me, it took a little longer to get started in bands. I was into music and going out seeing gigs and dancing and all that but it wasn't until the early '90s when I was in my early 20s that I actually started playing. Initially, the music I started making was quite angry because I was an angry young woman, and I was influenced by riot grrrl and bands that stemmed from that scene. When I moved from Glasgow to Edinburgh, I got together with Clare in a band called Sally Skull, and when we started playing together she led me further down the '60s garage path rather than the noisy Indie grrrl one. We both still wrote and played quite angry songs, but they just sounded less angry! The garage approach was perfect for some of our more scornful and dismissive songs!
How did you end up playing your instruments?
CD: Well I knew the piano having had lessons when I was younger. I certainly haven't mastered the keyboard! But I enjoy playing it, and it is easier than guitar.
AM: Because I had played drums 30 years ago in a band, I thought it would be good to do it again because it is good to keep your hand in! Also, I owned three drum kits for apparently no reason whatsoever, so it was nice to have a reason to play them.
SH: I guess I play bass (in The Nettelles) because it's the guitar I play best! And Clare was playing guitar. I always like playing bass along to Clare's guitar (which I did in Sally Skull too). I played the Danelectro bass in The Nettelles and Clare played a Danelectro guitar so we were a bit of a Danelectro fan club. These guitars look good, sound good and they are really light!
AM: If only there was a Danelectro drum kit! Do you have a favourite instrument, amplifier, pedal or microphone? If so which one and why.? How important is it to have a particular brand of instrument to get the sound you want?
CD: I liked my Philicorda but it's too heavy to carry to gigs.
AM: You should try moving a Hammond! [Angus plays a Hammond in the Sensation Seekers].
SH: I guess there's a kind of theme here because, as I said, I play the Danelectro bass in The Nettelles, and a violin bass in Lord Rochester, because they're nice and light and I don't like having a heavy bass or guitar over my shoulder. I like to move around while I'm playing and I'm not getting any younger …
CD: I'm not too bothered about the brand but I do like a 60s sound. I especially got a Yamaha YC for gigs as it weighs nothing and has settings for hammond, vox and farfisa.
If I am not mistaken you use a Gem organ; a rare old Italian instrument somewhat related to the Farfisa or affiliated with it?
CD: I would love a Gem but the organ I played on the album is actually Angus's ….
AM: It's a Teisco TEISCHORD C which was imported by WEM into the UK and I have two of them … although I'm not sure where one of them is at the moment! Might just be in a cupboard though. They're Japanese and don't sound like other organs although, yes, they sound a little bit like a Gibson organ.
If I am correct you use a singing system instead of a traditional/modern PA?
AM: We've got an old VOX system in the rehearsal room but we never used it for gigs, just rehearsals. For recording we mic'd straight into the desk, part of a Tascam 388 recorder.
Why Garage Rock or Garage Punk if you will?
AM: We're definitely not garage rock.
CD: Yes, garage punk. Sounds good …
SH: … and anyone can do it.
CD: And you don't have to be an accomplished musician to play garage punk.
SH: In fact it's better if you're not! Here's another bit that Clare told me in my interview with her: "We're not aiming to be perfect – we want the rough edges. I went along to a guitar lesson once and it was this guy with his heavy metal guitar. He wasn't much older or was the same age as me and he was teaching out of his bedroom in Portobello and had all these dodgy page 3 pinups on the wall. He would say learn to play these finger placements and then you'll learn to play really fast. And I realised well actually I don't want to play heavy metal solos. I also had that punk rock thing – here's three chords learn it yourself. But if I had to go back in time I would tell myself to get those guitar lessons but not from Heavy Metal guy and to not be so punk rock. But then I would have been a completely different play, like if I'd learnt the blues scale with blues riffs."
How would you compare The Nettelles when it comes to musical approach and band chemistry in comparison with other bands you are or have been playing with as Lord Rochester, Sally Skull, The Thanes, The Sensation Seekers, Les BOF!, Pterodaktyls and Big Russ Wilkins & Lightnin' Holling and what did you bring into The Nettelles from those bands?
AM: The Sensation Seekers and The Thanes don't drink as much tea.
SH: But maybe drink more whisky!
AM: Hmmm no, and The Thanes don't get together very often … apart from when we play gigs we don't really socialise as Lenny and Gordon (of The Thanes) live in different parts of Scotland. Actually I think The Nettelles do more socialising than any other band I'm in. Perhaps Les Bof! to a certain extent but I would say The Nettelles is the most social band I'm in – that's the chemistry.
SH: Yes we were all friends prior to being in the band and still are! And it's not a heavy drinking band …
CD: … no it's heavy tea drinking and slices of cake around the kitchen table.
SH: For me, I guess The Nettelles is the only band I'm in now that my husband isn't in! It's so good to play without my husband breathing down my neck … but no, seriously, for me with The Nettelles, and Sally Skull before them it has always been about having a bit of girl fun and making a loud noise with other women (and Angus!) Playing with Lord Rochester now for over 10 years has given me a lot of experience in recording and performing. With Sally Skull, I was just learning and not really very confident about anything; playing live, writing songs, recording etc. But having now done a lot of it I think I'm much more confident on stage now and thus enjoyed gigs with The Nettelles a whole lot more. Also, I think me being more confident rubbed off on Clare allowing her to relax a bit more on stage. I am still a bit nervous however about bringing new songs to any table though … Clare was always the good songwriter in Sally Skull and she continued to be a good songwriter for The Nettelles and I think her songs got better over the last four years we played together too.
What is the main difference between the band who recorded your debut single «I'm Over You / We Are….» in 2018 and the band we can hear on the album «Do You Believe in…»?
AM: Nothing.
SH: I think we were a more confident band for the album recording.
Can you please give us a bit of insight into each band member's musical strengths and role in The Nettelles?
Clare Campbell / Clare Scrivener – vocal, guitar
SH: I think perhaps Clare was the driving force in the band. She was totally focussed on the music we were making and we were all determined to ensure that we got our songs together and down on tape.
CD: I know that The Nettelles kind of stemmed from the Sally Skull reunion in 2015 but on our way back home with her from a Gories gig in Glasgow she was so excited about starting a band again.
Caitriona Donaldson – organ
SH: Caitriona puts herself down and says 'she has no strengths' but in fact her keyboard playing is a key part of The Nettelles' sound. When Clare and I first talked about forming a new band after the aforementioned Sally Skull reunion we knew we wanted to beef the sound up a little. We thought about a rhythm guitarist but plumped for Caitriona's straightforward no nonsense keyboard playing. She makes good cakes too.
Saskia Holling – bass, vocal
CD: Best bass player, best organiser and makes the best cakes. Sas is strong, reliable and makes things happen. She made sure we got together and got to places on time. Following her rhythm kept me right on keyboards. Together Sas and Clare up front totally rocked.
Angus McPake – drums
SH: Although Angus says he hadn't played drums for over 30 years you wouldn't have known. He's a bit of a musical all-rounder; one of those annoying people who can play anything! This was actually really helpful in the band because any of us could turn to him for assistance if we needed it in regards to getting the right note or chord for a chorus for example. He's also written some great songs for the band too and he has a rehearsal room and studio in his house!
You also brought some guest into the studio with you?
Doug Campbell – vocals
SH: Doug is not just Clare's husband he was singer in an Edinburgh band called Varicose Veins in the late '80s.
AM: He came up on stage with The Stayrcase as well I seem to recall. He used to do a version of Swell Maps' 'Vertical Slum'.
CD: I think Doug doing 'Drug Train' was just so good. Lux would have been proud.
AM: We were going to call it 'Doug Train' on the album …
SH: … but we didn't …
E. Wilkins – backing vocals
CD: A wonderful addition to the album!
SH: E. Wilkins is Russ and I's child! From the age of 8, Eli came along to Lord Rochester gigs as we were both playing and couldn't leave our child home alone! Over the years Eli has gone from backstage to singing along or playing guitar on certain Lord Rochester numbers and it just seemed like a natural thing for them to join in on The Nettelles family recording experience.
Your lead singer, guitarist and primary song writer Clare Campbell was lost to cancer before the debut album came out and was released on her Birthday and it can also be seen as a tribute to her legacy. Our condolences for your loss! How do you remember her and how important was she to the band?
SH: What can we say – Clare was The Nettelles. We have written about this on the insert to the album and I'm not sure we can say much more.
Will the band continue in any form or do any live shows in remembrance?
SH: I think we will do a show at some point in the future (post Covid) as a tribute to Clare.
AM: As soon as we can really.
SH: Yes, Girls Rock School in Edinburgh (GRSE) are keen to help with that as Clare was a founding member of the GRSE, an organisation that helps to encourage women into music.
What is the current music scene in Edinburgh and Scotland like? 
AM: Well, it's all pretty closed down at the moment because of Covid.
SH: Prior to Covid there was quite a healthy band scene. There's not a lot of medium size venues but for local bands there were / are a lot of small venues such as Henry's Cellar Bar, Leith Depot, we've had many a good night at these venues. Then there had been the annual garage festival, the Franklin Fest (which Angus helped organise) but I'm not sure what will take place again … With regards to bands, well, The Thanes, Les Bof!, Sensation Seekers are all worth checking out! And Lord Rochester of course.
CD: And Big Russ Wilkins and Lightnin Holling.
AM: Listen to Orange Clawhammer. It's a sort of Beefheart tribute band but they do the songs differently. Really in your face great sounding stuff.
CD: Lots of good bands have come out of Girls Rock School as well: Thee Girl Fridays, Bratakus.
SH: Oh, not from GRSE, but The Fnords too.
CD: And Las Mitras from Glasgow.
Tell us a little bit about the choice of album title «Do You Believe In….» and what you wanted to communicate with it.
AM: You know it's one of those things where if you try to explain it, it sounds shit!
SH: But we'll try – we had the idea of fairies among The Nettelles and Danny (Carr) mentioned the Cottingley Fairies …
CD: … Then Clare came up with the title … it's not actually about anything deeper I think.
The artwork for the album was done by Danny Carr and Bruce Brand (Thee Milkshakes, Thee Headcoats, Pop Rivets, The Masonics, Armitage Shanks, Holly Golightly, Hipbone Slim And The Knee Tremblers etc.). 
ALL: They're both friends and they're both really good at what they do.
There are also some nice insightful sleeve notes, written by Lenny Helsing (guitarist, vocalist, drummer, songwriter from Belsen Horrors, November Crimes, The Green Telescope, The Thanes, etc.). 
AM: Lenny is an old friend of all of us and Lenny has a good way with words when it comes to describing music.
SH: He's a bit of an Edinburgh legend, Clare used to call him: "the godfather of the Edinburgh garage scene".
AM: And now he's in Stonehaven … he's got a pointy hat!
Besides your own brilliant songs the album also contains a select few covers.
Get off the Road, written By – Herschell Gordon Lewis, covered by The Lunachicks, The Cramps etc.
SH: This is a song that Clare and I played together in our Sally Skull days. Clare actually worked out the song from her VHS copy of the movie 'She-Devils On Wheels'! We always loved playing it, and I think it was in the Sally Skull set from the very early days of the band. Sally Skull recorded it twice too but never released those recordings though you can hear them now on Bandcamp. When we started playing together again in The Nettelles it just seemed natural to take this song with us. It's an ideal 'get up and go' song so we used it to start most of our gigs.
AM: Yeh it really is a get up and go tune!
CD: The Cramps covered it too and it's one of the rare songs that Poison Ivy sings.
You Lied to Me Before, written By – Ray Foster and done by The Treez, The Brood, etc 
SH: Our version of this song is actually influenced by the version done by The Brood. Clare introduced me to The Brood back in the early '90s and I immediately went out and bought their records. This track was on a Dionysus Records compilation called 'Sounds of Now!' I hadn't actually realised that they didn't write it until I was doing the info and credits for The Nettelles record sleeve! Another great song to play live; I loved picking out guys in the audience to admonish during the middle talky bit!
Drug Train, written By – Ivy Rorschach, Lux Interior and done by The Cramps, The Monsters
SH: We played this at an annual Cramps' tribute night that took place in Edinburgh and Glasgow, called 'Lux Lives'. Doug joined us on stage to perform this song in 2019 and it was great to have him and Clare singing together on stage; Edinburgh's rock 'n' roll gothabilly couple
I've put on the table some key words I want you to reflect a bit on.
Rock'n'roll
SH: Never dies …
AM: Sex and drugs …
Surf guitar
AM: Oh there was definitely a bit of surf guitar in The Nettelles it was a nice element to throw in especially as a riff over some of the reverb.
Girl group
AM: There are very few entirely girl groups in Scotland. Apparently someone is doing documentary about the history of Scottish girl groups …
SH: It's called 'Since Yesterday: The Unsung Pioneers of Pop' 60s beat.
SH: Yes there's an influence but …
AM: … It's not just that …
SH: Although Sally Skull's music wasn't particularly riot grrrl, there were no overtly political lyrics, we happened around the same time as that scene took hold in the UK. Clare called us "fellow travellers" of riot grrrl but I think the explosion of young women in music at that time had more of an influence on me i.e. it actually gave me the final push that I needed to get up and make a noise through music. I also wrote fanzines and put on gigs in Edinburgh, often gigs with an all-female line-up with bands such as Lung Leg, Pink Kross and Hello Skinny.
Ragged sound
CD: Toe ragged … yes we don't want a polished sound …
SH: Aye ..
Fuzz
CD: Can never have too much of it …
SH: Well you can, but it's always good to add a bit in! And I liked Clare's fuzz guitar.
AM: Yes, it totally worked. That pedal was one of those that worked with some guitars and not with others but I guess the fact that it was a Danelectro fuzz and a Danelectro guitar says something.
 The Headcoates/Thee Mighty Caesars/Thee Milkshakes/The Pop Rivets/The Buff Medways/The William Loveday Intention/ Billy Childish
AM: Well … there's a great book just been written about the women involved with these particular bands … ['Girlsville: The Story of The Delmonas and The Headcoatees published by Spinout Publications]. (The book is written by Saskia Holling, came out this spring, and is highly recommendec – by the way, Cecilie Asker, The Launderettes, started a fanzine in the late nineties with partly the same name, Girlsville,  which is also about ladies and music, Vicor, editor).
Medway Garage
SH: It's funny how because we have Mr Russ Wilkins named on the album (as Producer) we become associated with Medway Garage …
AM: Is it really different from any other garage scene …?
SH: … Edinburgh Garage.
The Brood
SH: I think I answered that one already!
The Pandoras
CD: We used to play 'That's You're Way Out' by The Pandoras live. Clare was a huge fan and I think we did a good version.
SH: Yes, I'd love to find a rehearsal copy of that because I think it would make a good single track…
Slavic Folklore / Baba Yaga
AM: Baba Yaga is influenced by Clare and Doug's love of giallo and '60s and '70s experimental horror films. They seemed to have a keen interest in European folklore rather than British horror movies.
Fun
CD: It's all about fun.
SH: If you're not having fun in the band, what's the point!
AM: Exactly. Interestingly, in Scotland I think there's always been this kind of East / West coast divide between taking music seriously and being 'professional' which seems to happen in Glasgow more and in Edinburgh it's more about just having fun. That's possibly why Edinburgh bands have suffered from lack of recognition because no-one gives a fuck about being famous.
Attitude
SH: You gotta have it!
CD: Spadefuls of attitude.
SH: And we wear it well!
Female empowerment
ALL: Yes.
Jack the Ripper
CD: Baba Yaga.
The Whirlpool
CD: That was the Edinburgh Club that Clare and I did with her (then) boyfriend Cal, her brother Grant and our friend Donalda around 1988/89. We kept it cheap, it was about £1 or £2 to get in and we played a mix of '60s garage and indie stuff … Pebbles, Goth, Beat Happening … a real mixture of just the things that we liked. We set it up because Acid Clubs were big at the time and there were few clubs that we wanted to go to so we decided to set up our own!
The Go Go
AM: I actually think The Snakepit is more relevant to The Nettelles, that's where we all first met each other. The Snakepit was an Edinburgh club in the mid to late '80s, run by me, Lenny and the 'gregarious' Jeremy Thoms, and it was mainly me and Lenny playing '60s garage and rock 'n' roll plus some punk, Damned, Wire and slightly more contemporary stuff (at the time) like Julian Cope and Psychedelic Furs. There was a huge group of friends with similar tastes that I met through this club including all of you. It ran for about 4 years back in the days when you started a club at 10 at night and didn't come out until 4 in the morning.
SH: When we were young!
AM: It was light when you went in, you DJ'd all night and it was light when you left … not many times in my life have I done that.
All money made from your record sales will be divided between Maggie's Edinburgh and Girls Rock School Edinburgh.
SH: Both charities are relevant to Clare. Maggie's Edinburgh, a charity providing cancer support, was there for Clare when she needed it and as I've said before she was a founding member of Girls Rock School Edinburgh – a place where it's not just about the learning to play instruments, it about meeting other people and getting to know people who might want to play together.
«Do You Believe In…» was recorded at Ravencraig Studios by the band and Medway Garage legend Big Russ Wilkins (The Pop Rivets, The Milkshakes, The Wildebeests, Lord Rochester etc.).
SH: It's a front room in Angus's house which is next to the all-important kitchen and the recording control room.
AM: It was mainly recorded live with no dividers or isolation so it literally is the sound of the room with very few overdubs. You hear exactly what we played.
SH: Yes, what you hear is what you get.
As I understand, the album was recorded on tape.
AM: There was no option to record on any other digital format. Tape is what Ravencraig Studios uses so that is what we recorded onto.
CD: We used the resources that we had.
AM: And it's immediate. My dislike of digital is that you have to do a lot to it afterwards. With tape you record, rewind and play it back and it sounds good immediately. Personally I don't think you get the same results from digital recording.
SH: Although there was a little bit of work on it digitally afterwards.
AM: Yes but the bulk of it had been done. We set it up to sound that way before we played as you need to set up the sound before you record onto tape and you need to set it up right. Also, to me, this format sounds better.
Tell us a bit about Big Russ Wilkins and your choice to produce the album together with him and his contribution to the outcome of the recordings.
AM: We just couldn't get rid of him!
SH: Well, I couldn't leave him in the car with a bowl of water and the window slightly open! But seriously, again, I'm going to turn to Clare here and in the interview I did with her we were talking about sound and she told me about when The Pterodaktyls first recorded: "We saved up money that we earned from gigs and then we spent it all on the recordings which we weren't very happy with. We did this recording in a local studio and found it very hard to explain the 'garage punk' sound that we wanted. I can't remember what we said but I think we were unable to articulate what we wanted: that garage sound, very simple, very live sounding … There are lots of decisions being made to create that raw and exciting sound. … This idea that you can just go into a studio and lay it down, it's just so easy for it not to be the way that you want it. We needed a Russ in the Edinburgh scene earlier. Because people (like Russ) knew what they were doing and knew what sound they (and we) wanted …"
Your album was released by the Norwegian label Back to Beat Records.
AM: I knew the label because they had put out an album by The Sensation Seekers. Jon (Skjold) of Back to Beat is a huge Sally Skull fan but he hadn't worked out the connection with The Nettelles. He was so excited when he found out that I was drumming in the band with Clare and Saskia from Sally Skull. He really wanted to put the album out.
What is your relationship with Norway and Norwegian music fans. Did you ever come here to play shows with any of your previous bands or do you have anything scheduled for when this pandemic comes to an end?
CD: I really wish we could have done. I'm a big fan of The Frantic Five who are on Back to Beat.
AM: I've played there with The Sensation Seekers, Les Bof! and The Thanes and I think The Nettelles would have gone down a storm …
Can you also tell us a bit about a Ravencraig Recording and Spinout Nuggets?
AM: Ravencraig is rough and ready, we record straight onto tape and we want people to come and play and record at the same time.
SH: Lee Grimshaw is lovely, super enthusiastic and an easy person to work with.
AM: It was a hard choice between Spinout and Back to Beat for the Nettelles' album release. In the end, Jon was just so enthusiastic about it because of the Sally Skull connection. We also wanted to get the album done straight away because of the circumstances and Back to Beat's timescale was faster … although everything was put back because of Covid …
How have you been affected by the lockdown and the Covid-19 measures?
SH: Hmmm the same as everyone else really. Although yes, Covid did hold up The Nettelles release because we were due to do a group photo shoot for the album cover when the first lockdown happened in March 2020. We were never all able to get back into the same room together after that which is so sad. When it came to the album cover we had to do some creative thinking – hence the individual photos taken in our respective back gardens for the cover. But, the cover concept and what to do with it did hold up the album release and, again, sadly, just a little bit too long for Clare to hold the finished product in her hands.
Finally I want you to select 15 tracks, 5 each, that somehow has inspired The Nettelles and finally one or two tracks that make you think of Clare and say a bit about what qualities you see in these tracks or why you relate them to the band or "Do You Believe in…".
In addition to the cover songs that we have already talked about, these are tracks that inspired The Nettles and that we played together because, well, we loved the songs:
'That's Your Way Out' by The Pandoras
'How To Do Now' by The Monks
'Justine' by The Rangers (and The Mummies)
'Can Your Pussy Do the Dog' by The Cramps
'TV Set' by The Cramps
'Bad Little Woman' by Shadows of Knight
'I'm a Leather Boy' by The Leather Boy
'Marble Orchard' by The Graveyard Five
'Diddley Daddy' by The Liverbirds
We've also chosen some songs that make us think of Clare and, as a consequence, The Nettelles:
Caitriona: Where is my Mind by Pixies because we loved Surfer Rosa. I think it was actually Gigantic that got overplayed at Whirlpool but any track from this LP makes me think of Clare and I love this one. Strychnine by the Sonics, because Clare belted this out at her wedding when she joined the Wildebeests on stage. A moment never to forget!
Angus: 'You Better Go' by Sally Skull because I thought 'I know this will be fun' as I had heard what you two were capable of already.
Saskia: 'Rebel Girl' by Bikini Kill Clare and I both loved this song – it was real 'call up' for us young women to just get out there and play in the early '90s. And so we did …
'Turn It On' by Sleater Kinney – Clare and I were both huge Sleater-Kinney fans and went to see them several times over the years. The last time we saw them together was in February 2020 at Glasgow Barrowlands. It was a magic night for many reasons. That relationship between Corin and Carrie always seemed a close match to our own musical partnership, a partnership that I'm missing more than words can describe ….