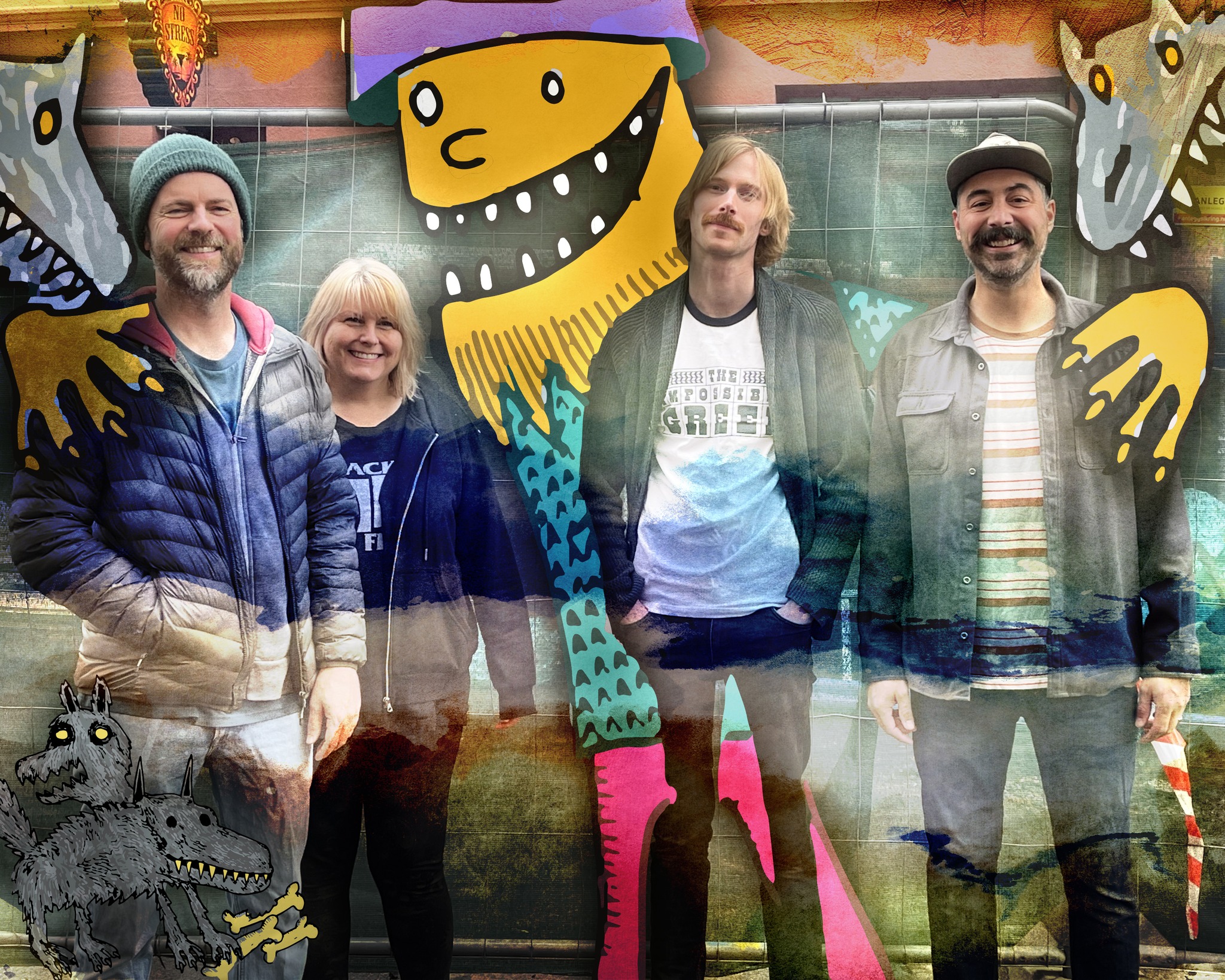 The High Water Marks danser med ulver
– Det var fint å være samlet. Vi har en veldig god dynamikk. Jeg tror ikke utstyret har så mye å si egentlig. Men jeg tror albumet bærer preg av å være en band-skive. Milford Sound er i veldig landlige Kentucky da, og der var veldig laid back stemning, forteller Per Ole Bratset i The High Water Marks, som er aktuelle med albumet «Your Next Wolf» på Minty Fresh.
Tekst: Jan-Olav Glette / Foto: Amanda Burford
Låtene på The High Water Marks sitt album «Your Next Wolf» er fremdeles korte og sprudlende og har fin vokalvariasjon. Kraftfulle melodiakkorder og energisk fuzzkrydder. I tillegg er det denne gangen enda mer klangfylt og fint. Bandet forteller i dette intervjuet med Deichman musikk om nordmenns oppheng i ulver, eget ståsted i ulvedebatten, nostalgi, fine opplevelser på Egersund Visefestival og fordelen ved å jobbe sammen i studio.
Kan dere først si litt om hvordan bandnavnet ble til og hva dere vil artikulere med det?
Per Ole: Da Hilarie og jeg lagde den første skiva, hadde vi fortsatt ikke et bandnavn. Vi tok navnet vårt fra den ene låta vår. Navnet på låta snappet jeg fra en anmeldelse av Dylans «Blood on the Tracks», som der ble kalt en High Water Mark.
Hilarie: It was all Per Ole!
Hvilket forhold har dere selv til høyvann, vann og/eller personlige rekorder?
Per Ole: Vi er ikke konkurransemennesker akkurat. Men vi mener at den siste skiva vår er den beste! Andre forhold er f.eks. at vi bor ved en elv og vi blir nervøse for flom i kjelleren når den er veldig høy.
Hilarie: Always trying to reach that next high water mark, haha. And yeah… our basement flooded in September and that was not the kind of high water mark I would like to see again.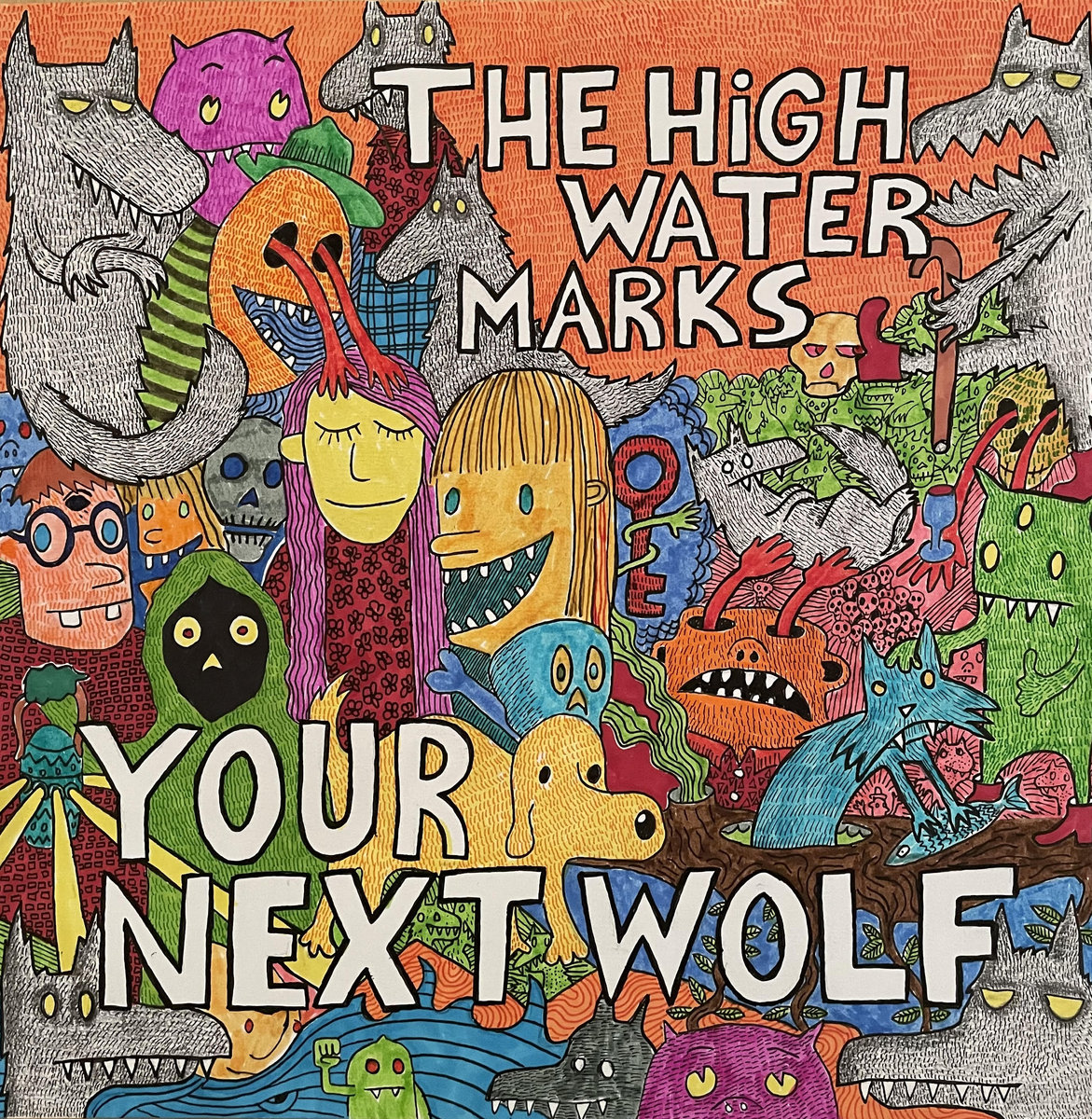 Hva er bakgrunnen for albumtittelen «Your Next Wolf» og hva ønsker dere å formidle med den? Hvilket forhold har dere til ulven, ulver og den norske ulvedebatten?
Per Ole: Vi mener at det er plass til ulven i den norske naturen. Det er mye hysteri og gammel overtro som henger igjen. Den bør få være i fred.
Hilarie: We talk a lot about wolves here in Norway and the way people are so scared of them. People seem to want them gone, but they have a much right to be here as we do. I think it's strange because they are an important part of our ecosystem. Wolves don't hunt people, or hurt people. Your Next Wolf was just something we came up with in conversation one day. Whenever I hear a phrase of something I like, I put it in my notes on my phone and try to make songs out of them. A lot of our song titles are made that way.
Hvilket forhold har dere til jangle pop?
Per Ole: Det er mange gode band i denne sjangeren om dagen! Vi er kanskje jangle-by-accident? Jeg syns vi er mer tight nå enn før. Men det skrangler visst enda sier de.
Hilarie: I love jangle pop! I think we are more jangly on our recordings than we are live. Also, I think fewer of our influences are jangle pop.
Her er noen stikkord som jeg vil at dere skal si litt om deres forhold til.
Twee
Per Ole: Vi er blitt nevnt som twee også. Men det skjønner jeg ikke.
Effektpedaler
Per Ole: Jeg er nok litt mer glad i pedaler enn Hilarie, men bruker ikke mange. En effektpedal må bryte gjennom og være litt dramatisk for at det skal være verdt det. Øystein og Logan er helt spinnville og elsker pedaler forresten.
Hilarie: I reluctantly have some pedals. I'm not really into them at all, but I have a useful boost pedal and a tremolo. Oh, I also have a big muff but I almost never use it.
Melodier
Per Ole: Melodien er det viktigste.
Hilarie: Everything we do is built around the melody.
Hvor viktig er det at melodiene skal være catchy og nynnbare?
Per Ole: Jeg tror det er viktig. Men det er også fint å balansere mellom catchy og kaos.
Hilarie: I think a catchy melody is the most important thing. Melodies and hooks are where it's at. Also, it's important (to me) to keep songs on the shorter side. I'd rather leave you wanting more, than to have a chorus that repeats a million times.
Fortell om Milford Sound Studios hvor albumet ble spilt inn. Hvordan har rommet og utstyret på dette stedet og Kentucky satt sitt preg på det vi kan høre på «Your Next Wolf»?
Per Ole: Det var fint å være samlet. Vi har en veldig god dynamikk. Jeg tror ikke utstyret har så mye å si egentlig. Men jeg tror YNW bærer preg av å være en band-skive. Milford Sound er i veldig landlige Kentucky da, og der var veldig laid back stemning!
Hilarie: Logan has a great set-up in Kentucky. It was really laid back and fun. It was just great to all be together for once. Øystein and Logan are great friends and super fun for us to be with. Plus, living out in the distrikt, we don't get to be so social, so that is a real plus.
Har det hatt noe å si at dere denne gangen har spilt inn sammen på ett og samme fysiske sted?
Per Ole: Ikke alle låtene ble gjort sammen, men vi fikk lagt grunnlaget sammen i Kentucky. Jeg tror det førte til at vi var veldig på nett og kjente hverandre bedre.
Hilarie: I think it sounds more like a band to me. I don't know if it's just because of the experience or if it really does. We work so well in our own little corners of the world together as well. It's hard to say.
Filmen «The Elephant 6 Recording Co.» ble vist på Egersund Visefestival hvor dere sammen med en rekke andre affilierte band opptrådte. Hva synes dere om den filmen og festivalen?
Hilarie: I am pretty happy with the film. It made me nostalgic, and sometimes I forget how much great stuff we did! I love all of those people so much. The festival is honestly the best festival that there is. Egersund is magical, Frode is insane that he pulls all of that together, and I think it's very rare for me to want to see so many of the bands at a festival. It's a feel-good time, it's great to be able to take breaks at the hotel in between events so that you can charge up your batteries for more. And the volunteers and local people are fabulous. I can't say enough!
I artikkelen «The Secret Gay History of Indie Rock» gir den populære bloggen mye av æren for fornyelse og ny vitalitet innenfor indierocken til homo- og queerbevegelsen. Hva tenker dere om dagens indierock-scene? Hvordan skiller den seg fra 1990-tallet?
Per Ole: Det er veldig mye spennende som skjer på dagens indiescene. Ofte veldig ukjente band som er veldig gode. Det er så mye der ute og så lett å produsere selv. Noe som er bra og samtidig vanskelig på grunn av at det blir litt vanskelig å bli sett for nye band.
Hilarie: I think it's great! It is harder to find new things now (for me) than it used to be. There is so much out there! But, there are so many good things happening, a lot of good feelings, and I love that things are more open and inclusive than ever. So important!
Hvordan er det å være indierocker i Norge i dag? Hva kjennetegner miljøet og hvilken plass har det i de kommersielle spillestedene og på rock- og studentkroene? 
Per Ole: Å være indierocker i Norge i dag er veldig forskjellig fra å være det i USA. Det virker som alt er profesjonalisert på alle nivå i Norge. Det er veldig dyrt å dra i gang noe og det skal mye til for at konsertlokaler tar sjansen på mindre band. Dette gjelder for så vidt også platebutikker som tidligere pushet smalere musikk, som nå satser mye mer på veletablerte store navn der en vet at det kommer til å selges mye. Jeg er usikker på hvordan dette har påvirket selve indierocken, men det virker som det er en slags forventning av at en må være en dyktig musiker for å være på en scene i Norge. Tilbake til profesjonalitet altså. Dette liker jeg ikke. Jeg mener at en ikke bør være dyktig musiker for å fremføre sin egen musikk. Denne mentaliteten tar livet av kreativiteten og gjør musikken mer lik og kjedelig. Det er mange veldig bra band i Norge og det hadde vært fint om de kunne fått litt hjelp til å komme mer frem. Band som Uptights og The Age of Colored Lizards burde vært mye mer kjent for eksempel.
Hilarie: It's extremely difficult. There aren't very many places that are willing to give a band a chance here in Norway. In the US, it's easy to get a venue to take a chance on you, or find a group of musicians that will set up a show, fix a big, cheap communal meal and make sure tons of people come to the show! Here, it seems to be all about profit, and being professional, which isn't conducive to creativity or really supporting art at all. It's a corporate structure model and mirrors the corporate leader culture that Norway is heading into in all walks of life. It creates a bland scene where all of the bands sound alike, and the competition becomes cut-throat. Bands are wary of each other, and it is hard to get support. Last summer we played at a festival. A band played before us and I told them that I enjoyed their show. I was met with a frustrated glance and the comment «If you all hadn't used so much time at the sound check we would have been a lot better.» Ouch. At the Egersund festival this summer I heard a musician (who was not playing at the festival) complaining about how the musicians in one of the other bands were not good musicians, and laughing at them. But, they played their own songs, they had fun, and they were creative. We need to support that. We need to support individuality, inspire each other, and have each other's backs. That is the foundation of a solid and thriving scene.
Norway is known for its dugnad culture. Venues could help more to support the local musicians. Pay the soundperson a little extra on nights they know they will make a lot of money and sell a lot of tickets so that they can pay them a little less when a new or lesser-known band is going to play. Maybe the venue could take less money to keep the ticket prices down and focus more on beverage sales knowing that they will make the money back when the more known bands play. Maybe local musicians could organize better together and set some shows up independently (like we have often done in the US) by renting a location and fixing the sound themselves, as an example. The record stores need to help too! Support local bands, put up a display, talk about them, and play them in the store. Most important, we need to be a little kinder to each other, less judgmental, and lift each other up instead of tearing each other down.
Norway is also missing a thriving underground/indie radio station culture. We only have NRK and it has a very corporate structure. In the US and many other places, there is a strong independent radio scene and college radio.
A lot of amazing bands don't come here anymore. There is less and less reason to come and I find that quite sad. Especially since they are playing and thriving in our neighboring countries like Sweden and Denmark. What does that say about our scene?
Ok, I've talked a short story here… hahaha. It's just something that I have thought about a lot. And I know what I'm talking about. I've been on the side of building up a scene, and I've been doing this music thing for 30+ years.
Hvilke planer har bandet fremover? Ryktene går om en ny Oslo-konsert i høst?
Per Ole: Vi satser på det!
Hilarie: I hope we get to play in Oslo! It is extremely hard to get shows in Norway. We are also recording. We have a new batch of songs that we are working on. We are taking it easy though… don't want to flood the market, hahaha.
Kan dere til slutt velge fem favorittlåter hver fra 2023 og si hva dere liker ved disse?
Per Ole:
Colored Lights – «Stabbing Clouds»
Frode Strømstads nye band. Så de i Egersund og det var en veldig bra konsert. Denne låta sitter som et skudd.
Fuckleberry Hinn – «Never Better»
HWMs Øystein sitt nye band. Kommer med dobbeltalbum i høst! Veldig bra!
Elf Power – «Undigested Parts»
Ok denne er fra 22, men det var så fint å høre de igjen i sommer så denne har vært på repeat.
Honey Radar – «Kite Balloons»
Er band fra Philadelphia som fortjener et større publikum. Det var hyggelig å møte de i Egersund!
The Rishis – «Holiday»

Skranglete gjeng fra Athens Ga. Liker veldig godt!
Hilarie:
I'm really bad at what year stuff comes out, and a lot of times I discover something from a couple of years ago that is totally new to me! 2023 has been a crazy year so far too. We put out our record, which I put a lot of focus into. Also, besides my fast 50% job at barneskole, I worked at voksenopplæring teaching a great group of Ukrainians Norsk A1 level, and teaching high school english at VGS. So, i was working over 100% haha.
Øystein from the High Water Marks has a new record coming out on September first with his band Fuckleberry Hinn. It's a double LP! And it's really epic.
Jennifer Barron from Ladybug Transistor has a band called the Garment District. Her new record is also coming out in September and it's really great.
Colored Lights, Frode's band is putting out their new record, and that too is fabulous.
The new Elf Power is getting a lot of spins on the turntable here at Bratset Manor as well!
I feel like I'm just naming friends, but I have so many talented friends! And I love that we support each other so much <3
The High Water Marks – «Your Next Wolf» (Album, 2023)
]
The High Water Marks – «Proclaimer of Things» (Album, 2022)
Se resten av diskografien på Bandcamp og Discogs.
Sjekk også:
The High Water Marks – «Proclaimers of Things» og «Fantastisk Machine» (Deichman: Årets album 2022, Victor Josefsen, Jan-Olav Glette).
The High Water Marks – «Proclaimer Of Things» og «Jenny» (Deichman: Årets album 2021, Victor Josefsen, Jan-Olav Glette).
The High Water Marks – «Fantastic Machine» og «Fingers and Trees are Only Temporary» (Norske spor 2022).
The High Water Marks – «Let's hang Out Forever» (Sommerspor).
The High Water Marks – «I Told You Before» (Ferske spor uke 6/2022).
The High Water Marks – «Proclaimer Of Things & Jenny» (Ferske spor uke 45/2021).
The High Water Marks –  «Award Show» (Ferske spor uke 46/2020).
The High Water Marks – «Can You» (Ferske spor uke 40/2020).
Sjekk også relaterte saker under.
Her kan du søke etter og låne musikk, bøker, tegneserier og noter i Deichmans katalog